LG G6: Integrated heatpipe will keep battery from overheating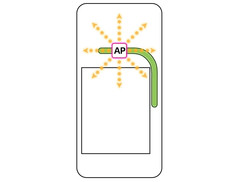 Bit by bit we learn more about the G6, LG's future flagship product, planned for release next month. A heatpipe and more rigorous battery tests are supposed to keep the G6 safe from overheating even under harsh conditions.
LG is clearly trying to profit from Samsung's battery disaster with the Galaxy Note 7. According to a recent report out of South Korea, the biggest local competitor to Samsung announced that they added several enhancements to the G6, LG's future flagship smartphone, to keep it safe from overheating even under harsh conditions. A heatpipe made out of copper will be able to keep the battery cooler by up to 10 percent. Also, LG made sure, that all heat-producing parts are spread across the phone to avoid heat buildup.
To keep users safe, LG intensified their battery tests. All batteries for the G6 are subject to a 15 percent higher temperature compared to standard international test procedures in the US and Europe, LG said. Also the batteries are subject to drop- and torture tests as well as accelerated life tests in order to uncover potential failure. LG is said to unveil the G6 during Mobile World Congress at the end of February. An official teaser recently unveiled more potential features of the new phone.