Huawei Mate 10 Pro will be $500 for Amazon Prime Day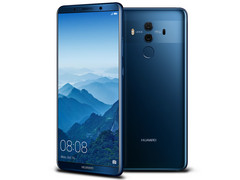 The well-received Mate 10 Pro flagship can be had for $500 unlocked and with no strings attached. Here's hoping that stock will last for more than just a few minutes when the deal goes live in just over a week.
This year's Amazon Prime Day will officially kick off on July 16th and Huawei will again be jumping on the craze with new deals to promote some of its more popular products.
While Prime Day 2017 focused on the Mate 9 and Honor 8, the manufacturer will be turning its attention towards the Mate 10 Pro for Prime Day 2018 with a price cut to $500 USD. The smartphone launched in North America earlier this year for $800 USD and so this latest deal is close to half the original price. Nonetheless, it's worth noting that the Mate 10 Pro has been receiving multiple temporary price cuts over the past few months to combat the wave of negative press against the Chinese OEM.
Huawei will also be slashing prices on the following smaller items:
The Mate 10 Pro is one of Huawei's best flagship smartphones that's unfortunately often overshadowed by the Samsung Galaxy series and Apple iPhone series. See our full review on the Kirin-powered smartphone for more details on its hardware and features.