How to Choose a Laptop for College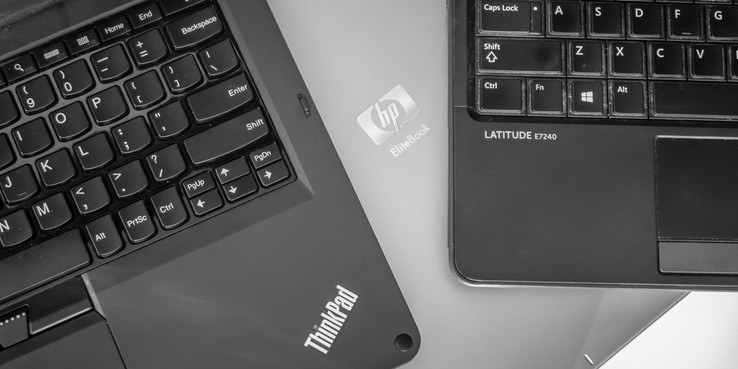 A student's campus lifestyle is likely to include long hours behind a computer screen doing research, typing papers and – after all the hard work is done – playing a game, staying in touch with friends, or watching a movie.
In this guide we will make some recommendations as to what kind of notebook might "fit the bill". We will take a look at the physical attributes we consider important - like weight, size, screen resolution - but will also cover hardware choices and even intangible factors like extended warranties. For specific suggestions and recommendations we suggest taking a look at our article entitled "The Best Notebooks for Teenagers and University Students".
Balancing Wants and Needs
Performance, weight & size, battery life, upgradability, color, brand, looks…there are so many things to consider when deciding on a laptop for the aspiring college student. Sure, a shiny new MacBook Pro retailing for 2+ grand might look appealing – but is it really a good choice for the intended field of study and can you afford it? If the money is tight, maybe there are less expensive options that still fulfill the requirements and won't break the bank.
First and foremost, a laptop is a tool – nothing more, nothing less. It's easy to get carried away and make a purchase decision based on a design element, materials, a brand preference, color, or other, more "superficial" merits. Fact is, a computer shouldn't be a fashion statement – a student needs something that will be able to handle everything he or she needs to throw at it in the upcoming four years of college.
So, where to start? Brick-and-mortar stores will generally carry consumer-grade laptops, but those are not always the best choice. Our recommendation is to consider a notebook intended for business use, as those are designed to handle the rigors of the road and feature better input devices and ergonomics. Sure, models in that category are pricier – but more often than not, the added cost will pay off in the long run. Examples are Lenovo's ThinkPads, Dell's Latitude-series, or the notebooks in HP's EliteBook-lineup. Every manufacturer also carries less expensive business notebooks in their lineup. Check out Lenovo's E-series or Dell's Vostro notebooks.
Don't Get Weighed Down
The course load might be heavy – but the laptop shouldn't be! It's easy to get focused on all the other attributes of a potential candidate, but not pay much attention to the weight. Add a stack of text books and other must-have items to a 7lbs, 17-inch behemoth and pretty soon you end up with a back-breaking load. That's why we recommend models with display sizes ranging from 12.5 to a maximum of 15 inches, which generally weigh between 2.8 and 5.5 lbs. A 14-inch Lenovo ThinkPad T450s, for example, weighs in at 3.5 lbs, Dell's 15.6-inch Precision M2800 Workstation can weigh as much as 6.4 lbs. The lighter a notebook, the better – although oftentimes this is a balancing act, as slimmer notebooks and Ultrabooks can cost a lot more than their more normal-sized cousins and are frequently less powerful as well.

Size Matters
Consider that the desk space in class might be quite limited just like on an airplane. A larger laptop might fit on the desk…or it might not. After all - you don't want to lug a computer around if you don't get to use it when you need to. Besides the weight, there's another aspect to consider: a large laptop which barely fits into the chosen backpack might be a lot more vulnerable to accidental damage if it sticks out above the padded sleeve and (almost) makes contact with the zipper. A smaller notebook slips easily into any backpack or messenger bag and will be much better protected.
As a general rule, we don't really recommend notebooks with displays measuring less than 12.5 inches across, as a smaller screen can cause more eye strain and is harder to work with – especially when two documents are open side-by-side. In other words: 10-inch netbooks are out. Also keep in mind that a smaller chassis oftentimes means a smaller keyboard as well. It can be a very tedious experience to type on keys that are cramped together and are smaller than normal! It doesn't have to be that way: with the Latitude 12 E7250 and the X250, Dell and Lenovo go to show that even small keyboards can be designed exceptionally well. Look for a large and accurate touchpad as well - in all likelihood, the external mouse is going to remain in the dorm. So what display size should you look for when purchasing a new laptop? Anything between 12.5 to 15.6 inches is perfectly reasonable, with 12.5 - 14-inch notebooks getting our nod simply because they are generally slimmer and weigh a couple pounds less than their 15-inch brethren. As an interesting side note: according to HP surveys, 14-inch notebooks are more popular in Asia, while 15-inch notebooks are more popular in US.
Hardware 101
With all the various choices out there, what kind of hardware should you look for?
CPU: a current dual-core Intel Core i5 processor will generally be sufficient for most tasks, but don't shy away from a previous-generation model if you find a good deal on a suitable notebook, as the difference in performance can be just a few percentage points. Core M CPUs – a popular choice for ultralight notebooks - are real power misers, but their raw processing power is only on par with Core i3 CPUs. Core i3 processors and AMDs A8/A10 platform often appear in lower-cost notebooks. They are still suitable for most normal productivity work, especially when they are paired with a Solid State Drive (see below). Core i7 CPUs are more future proof, but not necessarily always worth the extra cost. Although notebooks equipped with Atom, Celeron and Pentium processors will work in a pinch, we really don't recommend them here - the performance is just too slow for all but the most basic tasks.
RAM: we recommend at least 4 GB as a minimum (to allow for multi-tasking), but 8 GB is probably a better choice. If the laptop has an additional slot, upgrading the RAM is normally a pretty simple affair and much more cost-effective than doubling the RAM when ordering from the manufacturer. Should the RAM be soldered onto the motherboard and if there's no expansion slot, opt for at least 8 GB.
Hard drive: Many lower-cost notebooks and even some of the more expensive ones ship with a conventional, platter-based hard drive. Given the choice, look for at least 7200 RPM (instead of 5400 RPM) or a conventional hard drive with SSD cache. Ultrabooks and some high-end notebooks will ship with SSD (Solid State Drives), which have no moving parts and offers significantly improved performance, although at a much higher cost per Gigabyte. Upgrading the hard drive to SSD at the time of the order can be quite expensive, with manufacturers charging up to three hundred dollars extra to "upgrade" from a 500 GB conventional drive to a 256 GB SSD. At the time of writing, a quality 256 GB SSD can easily be found for $100 or less, so a "do-it-yourself"-swap can mean huge potential savings. Make sure though that opening the laptop doesn't void the warranty! With a simple adapter cable, the former hard drive can then be used as an external storage drive. Check the web for online tutorials; alternatively, ask a tech-savvy friend if he or she can help with the procedure. Perceived performance can improve significantly with an SSD: a notebook with a low-end Core i3 processor and SSD can feel faster than a notebook equipped with i5 or even i7 processor and a conventional hard drive. If the budget is tight, we definitely recommend spending money on an SSD-upgrade and not on a faster processor!


Battery: read third-party reviews to get an idea of the realistic battery life, as manufacturer's claims are usually very optimistic. Power outlets might not be available in all classrooms, so a battery life of at least 6 hours or more is desirable. Some laptops have larger batteries as an option, which is something we would recommend.
Graphics card: in most cases, an integrated graphics card (Intel HD Graphics for Core i-processors) is more than sufficient to handle the workload. Of course, it depends on the program the student is enrolled in: Architecture or Engineering majors likely will need a notebook with a dedicated NVIDIA Quadro/Geforce, or AMD FirePro/Radeon graphics card to handle the 3D modelling. An integrated GPU can handle light to moderate gaming as well, but the latest crop of 3D-titles will also require a dedicated graphics card. For more details, please check our extensive benchmark list of laptop graphics cards here.
Screen resolution: while screen size is important for the reasons we mentioned earlier, the resolution is "where the rubber meets the road". Consider a notebook with HD (1366 x 768 pixels) resolution. While working on a single document poses no problems, two documents next to each other – "split screen" mode – become very hard to work with. For that reason, we recommend at least 1600 x 900 or, even better, 1920 x 1080 pixels ("Full-HD").
Screen technology: opt for a display based on IPS (not TN) technology if at all possible, as the displays are generally not only brighter, but visible from all angles. Speaking of brightness, stay away from dim displays (under 200 nits) – they are very hard to see in brightly-lit environments. A matte display is a better choice for working outside, as the glare is reduced significantly.
Whose Side Are You On?
When it comes to the OS, there are generally two choices: Microsoft Windows and Apple's OS. Yes, Linux is another option, but many software titles won't run on it natively. We only recommend it to experienced users who know that they can get the required programs to run (or are familiar with acceptable alternatives). Many users prefer to use Windows because that's what they are familiar with – and it helps that most Windows-based notebooks are less expensive than Apple's MacBooks. In Art-related programs, Macs still rule, so it really depends on the field of study as to what you should be looking at. It always pays off to check with the College or the University.
Many Universities offer original software titles (including operating systems) at heavily discounted prices, so it can make sense to order the laptop with as little extra software as possible. In Europe it's sometimes possible to order a notebook without the OS and save money that way.
Those Who Know Best
Maybe we should have mentioned it in the beginning - we whole-heartedly recommend checking with the University BEFORE committing to a purchase. Check the packet you received, contact the IT department or browse the website for recommendations regarding the required specs.
Help Me If You Can
Most consumer-grade notebooks only come with a 12-month (24 months in parts of Europe) warranty against defects. Business notebooks, on the other hand, usually come with a 3-year warranty. Often enough, the warranty includes on-site service or a loaner notebook during the repair period. With a standard consumer laptop and a standard depot-warranty (requiring the laptop to be sent to a service center), you could conceivable be without a system for a week or two – a disaster if it occurs mid-term. A fatal system board failure outside the warranty period also usually means that the repair costs will exceed what the laptop is worth at that point. Regardless if one believes that an extended warranties is a worthwhile investment or a waste of money: in the case of a laptop with only a 12-month warranty, it might make sense to extend the warranty to 3 or 4 years or to purchase an "accidental damage protection", which covers the laptop against drops or other physical damage.
More For Less
Most manufacturers and many online shops discount notebooks for students and teachers. Usually, the student ID is sufficient to show eligibility and to qualify for the program. Some of the discounts can be pretty significant – hundreds of dollars - so applying is really a no-brainer. In addition it's worth looking for "scratch and dent" notebooks in the manufacturer's outlet stores – some real bargains pop up from time to time. Caveat: laptops bought in outlet stores usually come with a shorter warranty.
Choosing the right notebook isn't an easy task and requires a pretty substantial amount of research. Fortunately, we've already done some of the leg work for you – for further reading, we suggest taking a look at the following articles:
The Best Notebooks for Teenagers and University Students

Notebookcheck's Top 10 Premium Budget Notebooks
Ended up in the IT sector in the 90s more or less accidentally and have remained in the industry (as a sysadmin) ever since. Always been interested in laptops - first purchase was - if memory serves correctly - a Toshiba Satellite T2115CS with DX4-75 processor, 4 MB of RAM and 350 MB hard disk drive (and Windows 3.1). To this day, laptops appeal to me - much to the chagrin of my wife, who doesn't seem understand why we need 5-10 of them at any given time ;-).