Honor 7X receives Oreo beta, Treble support in tow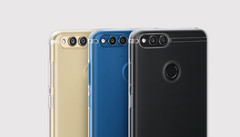 The Honor 7X is currently receiving its first Oreo beta. The update brings a number of UI changes and the much-expected Project Treble support that will allow the device enjoy the community development it has lacked so far.
The Honor 7X was one of our favorite budget phones of 2017. The device was released in China back in October, and in the US a while later. It launched on Android Nougat, however, which was a tad disappointing, as the Mate flagships, released around the same period, launched on Oreo. Users of the 7X finally have another reason to smile, however, with the device receiving the Oreo beta in various regions.
Right now, only users in Europe and India have received the beta update. Of course, they would have to had signed up for the beta program to be eligible for the update. Users in the US, however, will receive the update in batches over the next few days.
The update brings a number of features including 3D support for the lockscreen, wallpapers, and portrait mode, AI optimisation, navigation dock, and a number of other UI-based changes. Most important, though, is the Project Treble support it brings. Huawei has implemented Treble support on all its Oreo updates so far, and the Honor 7X is no exception. Treble support means the device will now be able to receive Lineage and AOSP ROMs, with few to no bugs, and without the device's camera performance taking a hit.