Apple's AirPods are the definitive hip TWS earbuds, but like all the company's other products, come with a heavy price tag—starting at US$159. Similar offerings from Samsung, Sennheiser, and Sony are far from cheap either and it wasn't until Xiaomi released the Mi AirDots that the world got its first cheap TWS buds from a brand with some cachet to it.
I've never been a Bluetooth guy, as I'd rather have my audio gadgets with a trailing wire. This is 2020, however, and the absence of a 3.5mm jack appears to be a premium feature now. The weak moan, the strong adapt, and the Haylou GT1 Plus was as good a starting point as any for getting into the TWS game.
Audio Quality
The Haylou GT1 Plus costs about US$25; what does that get you in the TWS market right now? Quite a bit, it'd seem. For starters, the buds sound good. Not great; good. Pit them against either first-gen Galaxy Buds or AirPods and there's quite some difference in audio quality. The lows aren't low enough; quite muddy, actually. Audio is mostly flat, even with YouTube Music set to the highest possible quality.
I don't pretend to be an audiophile of any sort, but the audio produced by the Haylou GT1 Plus just didn't wow me. I'm a sucker for cheaper gadgets, and my wired earphone history includes things like Roc Zircons, HM9's, and LeEco's brilliant CDLA Type-C earphones. The GT1 Plus doesn't quite match up to any of those.
Connection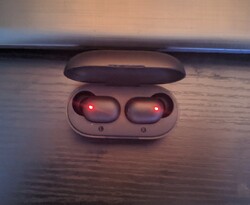 Connection quality is good. I never got any breaks in connection and I could use the buds anywhere within my apartment without issues. I did notice that moving the master R bud away from the slave L bud introduced connection problems, though.
The GT1 Plus was one of the first cheap TWS buds to feature Qualcomm's QC3020 chip. It's not the best Qualcomm has to offer, but it's one of the best in class and offers some sort of Dual Mode and aptX HD compatibility. While most of the newer, more expensive buds have true dual-mode, the Haylou GT1 Plus offers something halfway between the old master-slave connection and dual-mode.
The GT1 Plus is able to connect to the R bud, which in turn connects to the L bud in stereo mode. Turning off the R bud shots down the connection entirely. However, you can also choose to pair with both buds and switch at will. It's a compromise, but not a particularly great one. If you choose the latter option, the buds randomly choose not to connect in stereo mode, leaving you with just one working bud. I've found that incredibly frustrating, as the only fix is resetting the buds entirely, deleting the pairing, and starting from scratch.
Connection speed on the GT1 Plus is impressive, taking about six seconds from pulling the buds out of the case to getting a full connection. That's a few seconds slower than you'd get with a Pixel Bud or Galaxy Bud, but this costs significantly less.
Battery Life and Charging
The Haylou GT1 Plus offers excellent battery life. I've found myself getting about six hours of usage on a full charge; on par with the second-gen AirPods and Pixel Buds. The Galaxy Buds+ remains in a league of its own. In fact, battery life is probably one of the Haylou GT1 Plus' biggest strengths.
Charging is quick, and the case offers about three extra full charges. Getting it to charge could be an issue, however, as I've routinely struggled to get it in the exact charging position.
Build Quality and Fit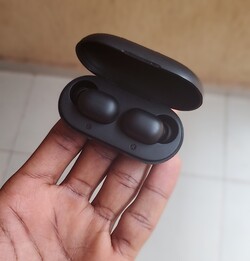 The Haylou GT1 Plus sports a nice matte black finish. It's incredibly light and looks to be made from some sort of cheap plastic. Haylou is a Xiaomi subsidiary of sorts and it's impressive that the company has delivered a product that mostly holds up.
I've seen plenty of complaints about the build quality of the similarly-priced Redmi AirDots—some units dying after falls. The GT1 Plus doesn't seem to have any such issues. My unit has taken a number of falls and still works perfectly.
The case is built from an unimpressive plastic material. After almost two months of usage, it doesn't quite look brand new anymore but isn't scarred either. The buds themselves still look great. Build quality is the number one area for cutting costs and while the Haylou GT1 Plus doesn't feature premium materials, it's not disastrous.
Fit is decent, depending on the tips you choose to use. The GT1 Plus comes with different sizes, and the mid-size seems to offer the best blend of comfort, audio quality, and fit.
Call Quality and Gaming
Call quality on the GT1 Plus is...passable at best. Good enough indoors, but less than ideal outdoors. When making calls outdoors in noisy environments, I found myself having to repeat statements. The form factor of the buds makes great mic reception difficult, so it's more of a design flaw than anything.
If you need earbuds for gaming, look elsewhere. The Haylou GT1 Plus isn't for you. To be exact, if you need audio for gaming, you'd be best served going with a wired connection. Playing Call of Duty: Mobile with the GT1 Plus was an exercise in futility, and I found my avatar getting clipped before even realizing it. It served well enough for every other use case, though. Streaming videos, listening to music, etcetera.
Conclusion
The Haylou GT1 Plus costs US$25 and manages to offer a pretty solid user experience for the money. There are obvious cut corners, and they don't compare to more premium offerings. What they do, however, is bring about 70% of the performance at 20% of the cost. It's hard to argue against.
Recommended: If you need cheap, good earbuds. If you're just trying to get a feel of what a TWS bud offers.
Pros: Good battery life, nice minimalist design, value for money
Cons: Charging issues, disappointing materials, uninspiring audio output, bad outdoor call quality
I like tech, simple as. Half the time, you can catch me writing snarky sales copy. The rest of the time, I'm either keeping readers abreast with the latest happenings in the mobile tech world or watching football. I worked as both a journo and freelance content writer for a couple of years before joining the Notebookcheck team in 2017. Feel free to shoot me some questions on Twitter or Reddit if it so tickles thine fancy.