IFA 2018 | Harman Kardon set to launch super-expensive Google Assistant-powered speaker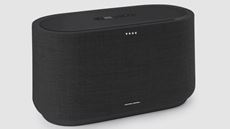 Harman Kardon have a track record of smart speaker (powered by Alexa or Cortana) sales by now. The company's newest one is to be debuted at IFA 2018. This device, the Citation 500, has some things in common with the Google Home speakers, including the ability to run Google Assistant.
Harman Kardon, a premium audio hardware company, plainly sees the worth of the smart speaker market. It has recently produced its own take on these devices. Now, the company is preparing to showcase its latest model in this vein at IFA 2018: the Citation 500.
What sets the Citation 500 apart from its predecessors is that it will be powered by Google Assistant this time around. This makes it comparable to Google's own line of Home speakers. As if to hammer that similarity home, the Citation 500 is also finished in a fabric (wool, in its case) outer casing.
However, the Google Home speakers may be considered reasonably priced, whereas their new Harman Kardon counterpart falls into a much more premium bracket. Currently, it is reported to cost US$700. For this price, the customer gets 200-watt stereo speakers with which to stream audio at rates of up to 24 bit/96 kilohertz.
It may be seen as a little odd that Harman Kardon has chosen Google's software as the app of choice for its newest smart speaker. The company is currently owned by Samsung; therefore, it could have integrated Bixby into the new device. The fact that it did not may speak volumes about the company's perception of the relative popularity associated with the two voice-assistant solutions.