Intro:
The 13.3-inch MacBook Pro is one of Apple's most popular products, particularly as it is among the first choices for many students, secondary or tertiary, as an entry-level high-performance laptop. The eagerly awaited update for the 13.3-inch MBP is now here, although it is something of a mixed bag in terms of how comprehensive the update is with changes varying across the model range. It is certainly not the rumored 14-inch redesign, but it does bring some substantial changes, although you will need to dig deep into your wallet to get the most out of the updates.
The Magic Keyboard and Revised Touch Bar:
The biggest change that is common across the 2020 13.3-inch MBP refresh is the introduction of the new Magic Keyboard. This finally puts to bed the nightmare saga of the butterfly mechanism keyboard that has plagued Apple's MBP line since its introduction on the now defunct 12-inch Retina MacBook back in 2015. Over that time, Apple tried repeatedly to address the malfunctions that affected the butterfly mechanism with several iterations and has only now called time on the inherently faulty design.
Apple introduced the butterfly mechanism because of its ultra-low profile that allowed for it to continue to deliver ultra-thin designs (even if some of these have also been prone to thermal constraint issues, yet another self-inflicted own goal). It also had very short travel, which admittedly some people liked, but it certainly wasn't widely popular. The new scissor-switch-based Magic Keyboard eliminates those woes and offers more travel and is much more comfortable to use overall. It might not be quite as snappy, but it is undoubtedly a massive improvement over a problem of the company's own creation.
Along with the Magic Keyboard comes the revised Touch Bar. It is a little like the butterfly mechanism in that it is something of a love it or hate it proposition for some. The biggest change is the glorious return of the physical ESC key – if the Touch Bar has to stay, at least this eliminates one of the biggest problems for the average user with the old Touch that required at least a couple of taps more to get to the ESC function. Apple has also added an inverted "T" arrangement for the arrow keys, which is also a welcome addition, making it easier to navigate without looking at the keyboard. As for the Touch Bar itself, the utility it offers will vary by app with programs, with Apple's creative apps like iMovie and GarageBand making the most out of it.
Double the Storage as Standard:
Another upgrade that is standard across the new 13.3-inch MBP line-up is double the standard storage. This means the range starts with a 256 GB SSD as standard and increases to 512 GB for the standard over-the-counter models. BTO only applies to the 1 TB and upwards storage options which max out at an impressive 4 TB. These SSDs are also blazing fast with up to 3 GB/s sequential read speeds. From a system architecture perspective, the performance bottlenecks are going to lie with the silicon and RAM combinations as no model is left wanting for hard drive performance.
Same Eighth-Gen Silicon and LPDDR3 RAM or 10th-Gen Intel Silicon and LPDDR4 X RAM:
Things start to get a little messy on the refreshed 13.3-inch MBP range when it comes to the silicon. The entry-level 13.3-inch MBP models stick with Intel's eight-gen Coffee Lake-based silicon with either the Core i5-8257U (15 W) or Core i7-8559U (28 W), which while they are still decent chips, they aren't especially exciting. These are still offered with a minimum of 8 GB of 2133 MHz LPDDR3 RAM as standard or up to 16 GB in the BTO configuration. The chips also supply the graphics performance, with the i5 model fitted with Intel's integrated Iris Plus 645 GPU and the i7 model picking up the integrated Iris Plus 655. Neither of them are anything to write home about though.
The real interest lies with the higher-end specifications of the 2020 13.3-inch MBP range that are currently exclusive to Apple. These are fitted with Intel's long overdue Ice Lake chips fabricated on the company's 10nm process. Our test unit is the entry-level 2.0 GHz Core i5-1038G7 (28 W) while the BTO option includes an upgrade to the 2.3 GHz Core i5-1068G7 (28 W) with up to 32 GB of LPDDR4X RAM. Both feature Intel's new Sunny Cove-based cores that represent the first significant architectural revision of Intel's Skylake cores. As our benchmarks show in the photos below, Intel has made a significant gain in single-core performance. The new 2.0 GHz model scores 1264 in the Geekbench 5 single-core test, which is faster than any of the new Mac Pro Cascade Lake Xeon processors that max out at a peak single-core score of 1148 – as most apps still lean on single-core performance, this is notable.
The other big jump the new Ice Lake parts provide is in graphics performance. Both chips are fitted with Intel's integrated Iris Plus G7 graphics, which features 11th-gen Iris Plus architecture. As G7 parts, both come with 64 execution units (shaders) that offer around 80% better graphics performance than the Coffee Lake Iris Plus chips found in the lesser 13.3-inch MBP offerings. As we discovered, this is good for playing a recent game like Gears Tactics in Windows 10 on Boot Camp at around 30 fps in medium detail – better than nothing we suppose. Of course, older RPG titles should play reasonably well on it but these devices are still only decent for casual gaming.
Initial Thoughts:
The new 13.3-inch MBPs bring some much-needed revisions across the board. However, if you really want to feel like you are buying a new machine, you will have to stump up at least US$1,799 for our test unit, the first of the two Ice Lake-based models in the range. So far, we have found it to be a welcome upgrade and properly worthy of the 'Pro' moniker. It will suit creative pros that work with audio programs and apps like Photoshop. However, unless you are planning on adding an eGPU to the equation, CAD designers and video editors will want to step up to the 16-inch MBP models that feature discrete AMD Radeon Pro GPUs. As ever, stay tuned for our upcoming full and in-depth review of the new 13.3-inch MacBook Pro range.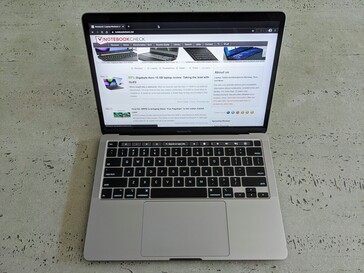 I have been writing about consumer technology over the past ten years, previously with the former MacNN and Electronista, and now Notebookcheck since 2017. My first computer was an Apple ][c and this sparked a passion for Apple, but also technology in general. In the past decade, I've become increasingly platform agnostic and love to get my hands on and explore as much technology as I can get my hand on. Whether it is Windows, Mac, iOS, Android, Linux, Nintendo, Xbox, or PlayStation, each has plenty to offer and has given me great joy exploring them all. I was drawn to writing about tech because I love learning about the latest devices and also sharing whatever insights my experience can bring to the site and its readership.