Google Sounds is a new app that brings more flexible ringtone and alarm settings, but only to some phones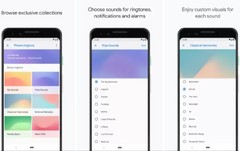 Although Pixel owners will probably get some exclusive treats, as usual, the Google Sounds app should work with most modern Android handsets. This app — which should be included in the December Android Update — comes with more options for the sounds used for notifications, alarms, and ringtones.
When it comes to changing alarms, ringtones, or notifications, even hardcore Android fans must admit that the stock experience provided by Google's mobile operating system is far from optimal. However, third-party apps can always deliver what's missing in this department for most users. Fortunately, those who like to get most of their Android handsets via Google-made apps will soon be able to enjoy the Sounds app.
Obviously, the more natural approach for providing more sound settings for alarms, ringtones, and notification would be to add improved abilities to the system itself instead of coming up with a new separate app, but we hope that Google will fully integrate the Sounds app into Android. However, for the time being, it looks like we will have to live with the new app as it is — but only if we are lucky enough for it to fully support our handsets.
The Google Sounds app was apparently listed for a while in Google Play, but now it cannot be found there. According to 9to5Google, the app shows up after installing the December security patch, but some features are exclusive to Google Pixel handsets. The app will come with sound collections and will automatically create one called "My Sounds" based on the user's existing settings. The other collections that come with the app have suggestive names, such as "Pixel Sounds," "Classical Harmonies," or "Retro Riffs."
Are you one of those who already received the update? What do you think about the new Sounds app?