Rize could be a new handset family by Samsung, three individual devices already registered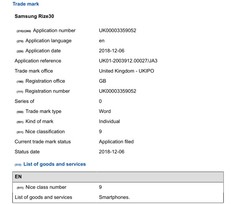 Previously reported as a possible name for Samsung's upcoming foldable handset, Rize returns as the name of no less than three devices. The Rize10, Rize20, and Rize30 smartphone models have just surfaced in three trademark documents published by the European Union Intellectual Property Office, but most details are still missing.
How to name a foldable phone? Samsung seems to have a lot of potential answers for this question on its hands, but Rize seems to be on its way to becoming a new family of products. Obviously, this does not mean that the upcoming foldable handsets will not be able to carry more names, depending on the market.
Returning to the possible Galaxy Rize lineup, three Rize smartphones have just been spotted on the website of the European Union Intellectual Property Office. Sadly, there are no technical details to talk about, but at least we have some names: Rize10, Rize20, and Rize30.
The aforementioned Rize handsets will join the new A series and M series, and both families of devices are expected to come with similar names. For the A series, Samsung will probably use the Galaxy A30/A40/A50 names, while the M lineup will consist of phones like the Galaxy M10/M20/M30.
At last, we should also keep in mind that the Rize devices might not be smartphones but some accessories. Could they be power banks or external camera modules? Nobody can say yet, so we can only wait for more details.