PSA | GeForce laptop makers who don't explicitly state their target TGP levels would be withholding vital performance information from potential customers and we're going to start calling them out for it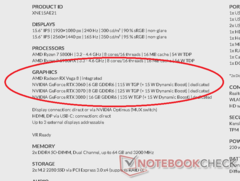 Nvidia will be dropping the Max-Q marketing name to the chagrin of many enthusiasts. While there are certainly some benefits to the decision, it will also open a can of worms because the mobile GeForce RTX 3060, RTX 3070, and RTX 3080 will each come in a wide range of TGP levels that will correlate directly to overall graphics performance.
Nvidia is encouraging laptop makers to explicitly advertise their TGP targets in lieu of using "Max-Q", but we all know most manufacturers and retailers won't even bother to do this. In fact, some makers are already boasting about this while others are already ignoring it. As a result, it'll be largely up to independent reviewers to find out what power levels these gaming laptops will be running their GeForce 30 GPUs at.
Moving forward, readers can expect all our GeForce RTX gaming laptop reviews to mention sustained TGP levels when playing real-world games. This value is selected by the manufacturer without being apparent to the customer in advance in most cases. Buying a brand new GeForce RTX 3080 laptop only to find out it runs 20 to 25 percent slower than a different RTX 3080 laptop just because the manufacturers didn't tell you their respective target TGP levels is something we want to avoid happening.