GTA Trilogy Definitive Edition: PC version pulled from sale as GTA 3, Vice City and San Andreas Remastered are plagued by bugs and technical issues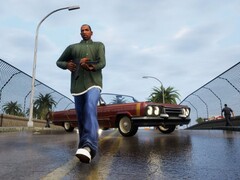 It was supposed to be a dream come true for Grand Theft Auto fans when Rockstar Games announced the release of the remastered versions of GTA 3, GTA Vice City and the legendary GTA San Andreas. With much improved graphics and sensible changes to the gameplay, players were delighted that they could once again enjoy the iconic Grand Theft Auto games from the early 2000s.
But because the remastered GTA Trilogy Definitive Edition suffers from many bugs and glitches, Rockstar has now taken rather drastic measures. According to several reports, the American developer and publisher has temporarily stopped the sale of the GTA Trilogy Definitive Edition via the official Rockstar Launcher on PC. This move may have been triggered by countless complaints by PC gamers who are unable to even start the remastered version of GTA 3, Vice City or San Andreas because the games immediately crash on startup.
Even on consoles, the GTA Trilogy Definitive Edition (from US$59 on Amazon) does not run smoothly at all. We personally tested the Xbox One X version of GTA San Andreas Remastered and immediately noticed choppy frame rates, asynchronous dialogues and cutscenes which were literally cut short. The rather ugly weather effects in GTA San Andreas and grotesque-looking remastered character models in the GTA Trilogy Definitive Edition have also caused a lot of discontent in the GTA community. Hopefully Rockstar Games will resolve all these issues with the GTA Trilogy Definitive Edition as quickly as possible.