After numerous leaks and rumours, the Fujifilm X-S20 has finally been launched, and it appears to be exactly what the rumours suggested — a compact, X-mount, APS-C, interchangeable lens camera that follows much the same formula as the Fujifilm X-S10. The X-S20 has the same 26.1-MP X-Trans CMOS 4 sensor found in the X-S10, but it has a few tricks up its sleeve thanks to the upgraded X-Processor 5 and larger grip that fits a bigger battery.
The X-S20 is being marketed by Fujifilm as a hybrid travel camera that excels at both photography and videography. The 26.1-MP APS-C BSI sensor promises great low-light performance, while five-axis in-body image stabilisation and a variety of video features promise to deliver an easy-to-use handheld video rig. The X-S20 can record 6K video at up to 30 fps in 10-bit H.265 and 4:2:2 internally, with 6K 30p RAW output via the built-in HDMI port. The dedicated Vlog mode on the mode dial and a 3.5 mm microphone jack make shooting high-quality video more convenient, as well.
The X-S20 also received some worthy photography upgrades in the form of upgraded autofocus tracking, expanded subject detection, an extra CIPA-rated stop of stabilisation, and a bigger buffer for improved burst shooting. The X-S20 can shoot up to 30 fps with the electronic shutter, with a frame limit of 62 lossless compressed RAW images and 28 compressed RAW images. This is up from the Fujifilm X-S10's limit of 29 lossless compressed RAW images and 17 uncompressed RAW images. Fujifilm claims to have doubled the X-S20's battery life over the X-S10, delivering 750 shots 85 minutes of 6K video, 80 minutes of 4K 60p recording, or 150 minutes of 1080p 60 fps capture.
The Fujifilm X-S20 is on pre-order at B&H Photo for US$1,299.95, but will also be available on Amazon with two different lens options. Shipping for the Fujifilm X-S20 will start in June 2023.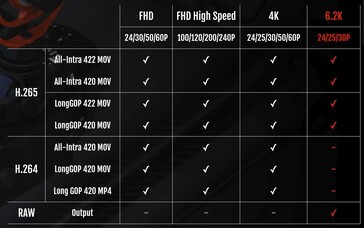 My interest in tech started in high school, rooting and flashing my Motorola Defy, but I really fell down the rabbit hole when I realised I could overclock the i7 930 in my Gigabyte pre-built PC. This tinkering addiction eventually lead me to study product design in university. I think tech should improve the lives of the people using it, no matter the field. I like to read and write about laptops, smartphones, software and trends in technology.