From Twitter to "X": Elon Musk's overpaid acquisition has more to it than meets the eye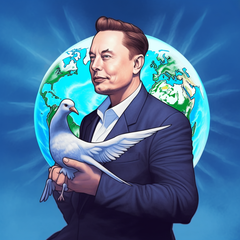 Views, thoughts, and opinions expressed in the text belong solely to the author.
We live in an age where information disseminates at virtually the speed of light thanks to social media. While this can keep us up to date on numerous events throughout the world in real time, there are also unavoidable negative effects such as the virality of fake news and factually wrong information.
Back in April this year, Twitter renamed itself to X Corp as part of owner Elon Musk's re-imagining of the "world's town square" as an "everything app". While the Twitter service itself will remain as is, all corporate undersigning will happen in the name of "X Corp". This is akin to how Google morphed into Alphabet in 2015 and Facebook became Meta in 2021.

The least bad solution to the AGI control problem that I can think of is to give every verified human a vote

— Elon Musk (@elonmusk) April 22, 2023
At the outset, one would wonder if it actually made business sense to acquire Twitter for a ludicrous US$44 billion. After Musk's takeover, asset manager Fidelity Investments slashed the platform's valuation to just Us$15 billion overall as of May 31, 2023.
However, there are larger stakes at play here.
Buying Twitter is an accelerant to creating X, the everything app

— Elon Musk (@elonmusk) October 4, 2022
Musk admitted that buying Twitter is "an accelerant" to creating X, the everything app. Public and private information regarding the "everything app" hints at Musk's plans of creating a WeChat or Line alternative for the rest of the world. WeChat and Line can be considered software Swiss army knives as they allow just about anything — from ordering pizzas to communication to gaming to even investments and crypto.

While the "everything X app" can ride on Twitter's popularity and even augment it, Musk's US$44 billion investment might have even farther ramifications as well.
The rapid proliferation of generative AI content opens up a pandora's box that can cause more problems than it can solve. Much before the acquisition of Twitter was even on the cards, Musk contemplated on creating a platform that rate and track the credibility of any journalist or publication.

Even if some of the public doesn't care about the credibility score, the journalists, editors & publications will. It is how they define themselves.

— Elon Musk (@elonmusk) May 23, 2018
Obviously, this raised several eyebrows as nothing was set in stone and the fact that there are already several ongoing efforts at establishing journalistic credibility. More than journalism pieces, posts by users on social media become viral and shape opinions before self-styled and conscientious fact-checkers chime in.
We could actually be on the verge of a day when debates, such as this two-day 12.5-hour NSFW face-off between AI Trump and AI Biden, are passed off as real.
Twitter already has a mechanism for reporting false information and prompts users duly, but this largely relies on input from subject-matter experts. In the course of time, AI could supplement these efforts as well.
This is similar in ways to which trustedd.com works. Trustedd was first announced in 2018 and went live about two weeks ago. The site bears similarities to Musk's visions as a community-driven effort to uncover trustworthy information. The core element of Trustedd is a community-based evaluation system, the so-called trustedd score. The score is further weighted based on a user's engagement on the platform or expert qualifications to ensure a fair evaluation.

Given its userbase, Twitter is arguably the best poised platform today to separate the wheat from the chaff.
Thus, while Musk may have overpaid to acquire the blue bird, the potential of the platform as not only a social media tool but also as a venerable source of credible information is quite high.
In a few weeks, X/Twitter will start paying creators for ads served in their replies. First block payment totals $5M.

Note, the creator must be verified and only ads served to verified users count.

— Elon Musk (@elonmusk) June 9, 2023
Meanwhile, the launch of encrypted messages between verified users, the ability of verified creators to monetize their content, and potential integration of video and voice calls in the near future all point towards baby steps in Musk's ambitions of making the "everything X app" a one-stop marketplace for all services.
It is a precipice indeed but not insurmountable.
Though a cell and molecular biologist by training, I have been drawn towards computers from a very young age ever since I got my first PC in 1998. My passion for technology grew quite exponentially with the times, and it has been an incredible experience from being a much solicited source for tech advice and troubleshooting among family and friends to joining Notebookcheck in 2017 as a professional tech journalist. Now, I am a Lead Editor at Notebookcheck covering news and reviews encompassing a wide gamut of the technology landscape for Indian and global audiences. When I am not hunting for the next big story or taking complex measurements for reviews, you can find me unwinding to a nice read, listening to some soulful music, or trying out a new game.