First OnePlus Experience Store opens on January 7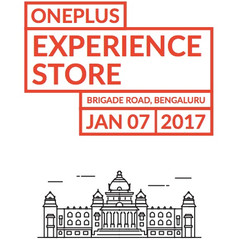 India is a big market for OnePlus, but the company only sells its products on Amazon for now. Later this week, OnePlus will expand its reach into the offline market by opening its first retail store, which will be located in Bengaluru (Bangalore).
Xiaomi and Huawei have both decided to open thousands of retail stores worldwide in the coming years, and it looks like smaller players like OnePlus also have such plans. OnePlus has no stores yet, but that will change later this week, as the company has announced the opening of its first "Experience Store" in Bengaluru (Bangalore), the third most populous city in India.
According to the announcement published on the official OnePlus Forums, the store will open its doors at 2 PM on January 7. The address is Hira Property at No.5, New No. 213, Brigade Road. Obviously, this opening will come with various exclusive offers, including the OnePlus 3T 64 GB and 128 GB in gunmetal finish, as well as the soft gold OnePlus 3T with 64 GB internal storage space.
Since OnePlus is not a behemoth like Huawei or Samsung yet, both founders of the company will be present at the opening event of the store. The company's handsets only retailed via Amazon in India so far, so we can only hope the first brick and mortar location becomes successful enough to make OnePlus target other markets with similar stores in the future as well.