Early demo of Android Q desktop mode surfaces online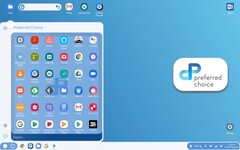 A developer has recently unveiled a video that shows the latest Android Q beta on the Essential Phone, which is wired to a portable monitor alongside a Bluetooth keyboard. With this setup, he is able to take the upcoming Android Q desktop mode for a spin, but he is using an experimental launcher to make it all work.
One of the most anticipated features of the upcoming Android Q release is the native desktop mode, a feature that will compete with Samsung's DeX. While Google has not shown much of it, developer Daniel Blandford took the latest Android Q beta, added his own custom launcher, and got the desktop mode working.
The handset he used is the Essential Phone, which was accompanied by a portable monitor and — apparently — a Bluetooth keyboard. Unfortunately, not all of us can take the desktop mode in Android Q beta for a spin, due to the aforementioned (not-so) secret ingredient that played a key role in the making of the video below, namely Blandford's custom launcher.
In addition to the desktop mode, Android Q also promises to come with a system-wide dark mode, smart reply for all messaging apps, a more refined Share menu, faster access to Settings, a new depth format for images, and much more. Do you have a favorite new feature already? If the answer is affirmative, feel free to let us know which one in the comments below.