As laptops get thinner and thinner, adapters are becoming more of a necessity if you intend to connect any sort of peripheral. The Latest Dell XPS 13 or XPS 15 models, for example, don't even integrate any USB-A or HDMI ports at all. Fortunately, there are plenty of adapters to choose from with some being more useful than others.
EZQuest recently sent us one of their adapters for our honest impressions and as far as 3-port adapters go, this one is quickly becoming a favorite. The small anodized aluminum USB-C hub adds HDMI 1.4, USB-A 3.0 with BC 1.2 for higher power output, and a USB-C port with full 100 W charging passthrough. It's a quick and easy way to turn a USB-C port into two more commonly used ports plus a USB-C for passthrough.
We tested the hub by connecting it to our Huawei Mate 10 Pro smartphone which supports desktop mode via USB-C. By connecting the smartphone to the hub and then the hub to an HDMI display, USB-C power input, and USB-A mouse and keyboard, we were able to quick-charge the smartphone and output to an external monitor simultaneously.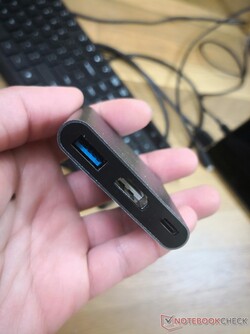 There are a few limitations to keep in mind. Firstly, the USB-C port on the hub unfortunately does not support DisplayPort meaning that users must use the HDMI port for outputting any video. If your external monitor supports DisplayPort-via-USB-C, for example, connecting its USB-C port to the USB-C on the hub will do you no good. Secondly, the HDMI port is limited to 4K at 30 Hz instead of 4K at 60 Hz. You won't be able to fully take advantage of most 4K monitors as a result with this hub.
For $30 USD, however, it's still a useful and portable hub for most situations especially since it is compatible with most devices.
After graduating with a B.S. in environmental hydrodynamics from the University of California, I studied reactor physics to become licensed by the U.S. NRC to operate nuclear reactors. There's a striking level of appreciation you gain for everyday consumer electronics after working with modern nuclear reactivity systems astonishingly powered by computers from the 80s. When I'm not managing day-to-day activities and US review articles on Notebookcheck, you can catch me following the eSports scene and the latest gaming news.