Introduction
One of the easiest ways to expand a computer's storage is by using an external drive. However, most flash drives or external hard drives are very slow and can cause bottlenecks in large file transfers. That's where Dockcase comes in. The company's new smart SSD enclosure is a sleek, well-built housing for an M.2 SSD that offers some nice bells and whistles. I've been using one for the past month. Here are my thoughts.

The Dockcase smart SSD enclosure immediately stands out thanks to its sleek and modern design. The case is covered with cool aluminum and glass, giving it a very high-end appearance. The enclosure is well-built, too: seams and gaps are tight and even, and there are no blemishes. The bottom of the case has long fins that not only look nice but act as a heat sink for the M.2 SSD.
Speaking of that SSD, the Dockcase smart SSD enclosure is a BYOD device: bring your own drive. Installation is a snap: a single #00 Phillips screw holds the bottom panel securely in place, and another #00 Phillips screw keeps the installed SSD put. Dockcase includes a small Phillips screwdriver, so everything but the drive is included.
The external shell can house multiple sizes of M.2 drives, including 30, 42, 60, and 80 mm SSDs. The enclosure supports NVMe drives. Dockcase informed me that up to NVMe 4 x4 is supported; however, I tested the device with an PCIe Gen 3 x4 drive (the WD Black SN750, to be precise). The drive works flawlessly once installed.
The top of the enclosure has a crisp 2.3 x 2.3 cm (~1 in x 1 in) LCD that displays various pieces of information about the installed drive, which are discussed below. The LCD is colorful and very bright, so it should be readable in any indoor environment. Lastly, there is a single button on the side for navigating the menus on the drive. This button feels firm and well-housed; I have no complaints.
Overall, this is one of the best built drive enclosures I've had the pleasure of using.

Features and Performance
The Dockcase smart SSD enclosure has some brains behind all that beauty. One of the main draws is the feature set built into the device's firmware. The LCD offers lots of pertinent information, such as when the drive is being accessed (read and writes), drive information, sizes of partitions on the drive, and more.
These readouts can be accessed via the side button. Holding this button will cycle through one setting every second. This becomes a bit cumbersome, as there's no way to go backward in the selection process. However, I didn't regularly access these menus, so that's more of a nitpick. Double-clicking the side button will rotate the displayed information 90 degrees. This information is definitely more "icing on the cake" than a necessary feature, but it is nice to have.
In addition to the information available via the onboard LCD, the Dockcase enclosure includes PLP, or power loss prevention. There is an internal capacitor that retains enough charge to safely power cycle the installed drive so as to prevent corruption or damage via sudden power loss (e.g., yanking out the USB cable). It may not prevent a file from being corrupted, but it's intended to save the drive from any permanent damage that can result some sudden power shifts and drops like abrupt disconnections.
The enclosure takes about 3 seconds to power on so that this capacitor can charge, though there is an option for a quick boot that starts the drive almost immediately upon plugin. This is a nice feature to have as it can save an NVMe drive, which aren't the cheapest pieces of tech these days.

These features are nice, but the main point of using an external SSD is the high transfer rate the drive can offer. Here, the Dockcase enclosure delivers. It supports USB 3.2 Gen 2, which offers a theoretical speed of up to 10 Gbps. This translates to roughly 1250 MB/s.
In testing, the Dockcase enclosure hits close to these speeds. Dockcase sent me a video of runs of CrystalDiskMark and AS SSD that showed the Samsung 970 Evo Plus (a PCIe Gen 3 x4 drive) used in their testing hit between 950-1050 MB/s in sequential reads and writes. (This is within the expected range; while USB 3.2 Gen 2 supports up to 1250 MB/s on paper, real-world access times are commonly lower than theoretical limits.) Random reads and writes are significantly slower as access times are a bit high, but this is not uncommon.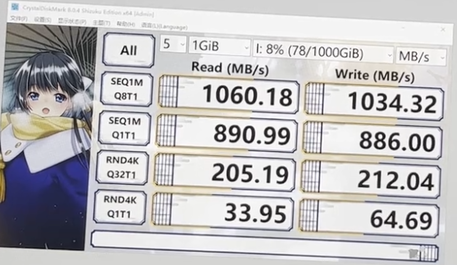 My tests showed an interesting result. The WD Black SN750 managed only 300-400 MB/s in sequential reads with slightly slower random read rates than in Dockcase's testing. This is likely due to hardware issues in my specific machine. The enclosure was plugged into USB 3.2 Gen 2 ports on my motherboard, but upon further testing, other USB 3.2 Gen 2 drive enclosures reported similar speeds. (I suspect a motherboard update or some other BIOS setting is limiting these USB ports.)
As such, I'm certain that the enclosure fully supports USB 3.2 Gen 2 speeds. I must note that this product is in beta and may have some bugs in its current state, but Dockcase has been very communicative with me to resolve my particular problem.
One final note: Dockcase has informed me that the enclosure currently doesn't support gaming consoles. Due to how the PlayStation 5 and Xbox Series X encrypt external storage, the smart enclosure is currently not compatible with either.

Conclusion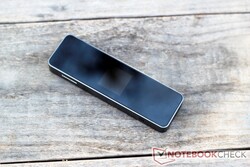 The Dockcase smart SSD enclosure is a fantastic piece of kit that offers a bundle of nice features. It supports PCIe Gen 4 x4 drives, but since it's limited to USB 3.2 Gen 2 speeds, slower NVMe drives (such as PCIe Gen 3) are more than enough to take full advantage of the enclosure.
All said, the Dockcase smart SSD enclosure is a great solution for those looking for lightning-fast external storage with a DIY element that allows them to swap drives, either when one gets full or in case of drive failure. The buffet of features, including built-in PLP and the handy info relayed via the LCD, separate Dockcase's enclosure from other solutions on the market.
The Dockcase smart SSD enclosure is currently on Kickstarter. The base unit with 5-second PLP is available with a US $69-79 pledge (depending on timing), and a version with 10-second PLP is available via a pledge of $89. Units are expected to ship in April 2022.
Disclaimer: The author of this review received the Dockcase smart SSD enclosure free of charge for the purpose of testing.
I've been a computer geek my entire life. After graduating college with a degree in Mathematics, I worked in finance and banking a few years before taking a job as a database administrator. I started working with Notebookcheck in October of 2016 and have enjoyed writing news and reviews. I've also written for other outlets including UltrabookReview and GeeksWorldWide, focusing on consumer guidance and video gaming. My areas of interest include the business side of technology, retro gaming, Linux, and innovative gadgets. When I'm not writing on electronics or tinkering with a device, I'm either outside with my family, enjoying a decade-old video game, or playing drums or piano.