Dear manufacturers, users want better web cameras!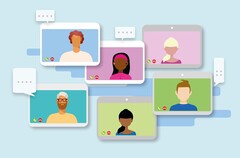 Views, thoughts, and opinions expressed in the text belong solely to the author.
I have recently competed my review of the Asus Expertbook. While I found the extremely light (less than 1 kg) 14-inch ultrabook quite exciting, I am going to use this occasion to make a general criticism about modern laptops. It has to do with the web camera.
Recently, I gave purchasing advice to two of my acquaintances. The first one is a natural health practitioner who had to rely on video conferencing to see her patients. The other one needed a new work laptop and also wanted her kids to use it for home-schooling. These two and many other people are asking for a laptop with a good web camera in the times of remote work and schooling. However, there is no such laptop.
Even the 2800-Euro (~$3350) MacBook Pro 16 comes with a 720p web camera, does it not? Entry-level smartphones have better cameras, and many people have to switch to their smartphone when the time comes for video conferencing. The new challenges that we all have to deal with everyday offer manufacturers the opportunity to get new customers by offering a simple feature—a good web camera.

In the meantime, many people have to use applications, which turn their smartphone into web cameras. And sure, you can buy a 200-Euro (~$240) 1080p external web camera. However, who would like to have to tote around additional accessories with their new 2000-Euro (~$2400) thin and light laptop? No one. People need a laptop that is fit for all the tasks that have to be carried out throughout the day. And these days, video conferencing is something that a lot of people have to do, which is why, dear manufacturers, we need good web cameras.

Views, thoughts, and opinions expressed in the text belong solely to the author.
A C64 marked my entry into the world of PCs. I spent my student internship in the repair department of a computer shop and at the end of the day I was allowed to assemble my own 486 PC from "workshop remnants". As a result of this, I later studied computer science at the Humboldt University in Berlin, with psychology also being added to my studies. After my first job as a research assistant at the university, I went to London for a year and worked for Sega in computer game translation quality assurance. This included working on games such as Sonic & All-Stars Racing Transformed and Company of Heroes. I have been writing for Notebookcheck since 2017.
Views, thoughts, and opinions expressed in the text belong solely to the author.
I am a big fan of technology, which is why I try to keep up with it. Among my other passions are literature and writing, and so it should not be surprising to anyone at all that I have a four-year bachelor's degree in philology. However, my interests are not limited just to the world of technology, or, for that matter, the world of literature. I am also interested in people and the stories they have to tell. And more recently, I took an interest in artificial intelligence.