Colorful reveals 3 new NVMe SSDs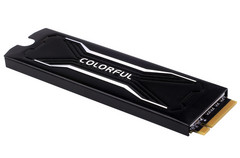 Colorful will be the first company to ship new NVMe 1.3 M.2 2280 SSDs with the new PCIe 3.0 X4 2262/2263/2263XT controllers from SiliconMotion. There are three models: a budget CN600 DRAM-less edition, a mid-range CN600 DRAM edition, and a high-end CP600 iGame Edition. These will begin shipping in late 2017 and will be available in Asia and Europe.
Working For Notebookcheck
Are you a techie who knows how to write? Then join our Team!
Currently wanted:
German-English-Translator - Details here

There are many Asian OEMs that only make it big in their countries of origin, but don't manage to significantly impact the Western markets. Take Colorful, for example. The company is said to be China's third most important SSD manufacturer, even though it started out only three years ago. Its latest partnership with renowned storage controller maker SiliconMotion will enable Colorful to expand its SSD line with new competitively-priced NVMe models in Q4 2017. Colorful claims that it will be the first to integrate the new PCIe 3.0 X4 2262/2263/2263XT controllers from SiliconMotion into three NVMe 1.3 SSD models that come in the M.2 2280 form-factor.

The CN600 DRAM-less edition is targeted towards the budget sector. It utilizes the SM 2263XT controller that can push up to 2 GB/s read speeds and up to 1.6 GB/s write speeds. Capacity options will range between 240 GB and 1 TB.

Colorful also announced the CN600 DRAM model, which appears to be the mid-range solution. It features a passive cooler and integrates the SM 2263 controller that is able to provide up to 2.4 GB/s read speeds and 1.7 GB/s write speeds. This version also comes in capacities ranging between 240 GB and 1 TB, and it is targeted at gamers and mainstream users.

The top of the line model is represented by the CP600 iGame Edition, which integrates the SM 2262 controller. Read speeds can reach up to 3 GB/s, while write speeds go up to 1.9 GB/s. Colorful included an RGB cooling solution and a 5-year warranty with this model. Capacity options range between 480 GB and 2 TB.

Prices for the Colorful PCIe SSDs have not yet been disclosed. The new SSDs will be released in late 2017 and will be available in most Asian and European countries.