Bitcoin price drops slightly because Elon Musk could sell Tesla stocks and Tim Cook indicates that Apple won't accept crypto payments anytime soon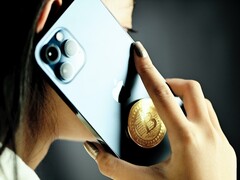 After reaching a new all-time record high of US$68,530 on Monday, the Bitcoin has taken a breather in the last 24 hours as the most valuable cryptocurrency in the world deals with a couple of negative headlines which were caused by the well-known CEOs of two tech heavyweights from Silicon Valley. Another record-setting November, which historically is Bitcoin's strongest month of the year, appears to be on pause for now.
First of all, the slightly weakening Bitcoin price can be attributed to a statement made by Apple CEO Tim Cook, who has addressed crypto in a recent virtual appearance at a summit hosted by the New York Times. Cook asserted that crypto "is reasonable to own" as "part of a diversified portfolio", but he also insinuated that Apple would not invest in crypto under his leadership, which most likely also means that it won't accept Bitcoin as a payment method for products like the new iPhone 13 Pro Max (from US$1,099 on Amazon) anytime soon.
Another trigger for Bitcoin's decreasing price was crypto aficionado Elon Musk, who recently made headlines by conducting a Twitter poll on whether or not he should sell Tesla stock, which caused a significant slump of 12% for the electric car company. Since Tesla itself holds bitcoins worth billions of dollars, such news can also have an affect on the Bitcoin price, even though this influence turned out to be rather moderate in this case. One bitcoin is currently priced at US$67,150, which is approximately 2% below the record all-time high reached on Monday.
Disclaimer: This article is for informational purposes only and does not contain any kind of investment advice.