IRS special agents could hunt down crypto criminals in the US as the authority expects to seize cryptocurrencies worth billions of dollars due to new taxation law ↺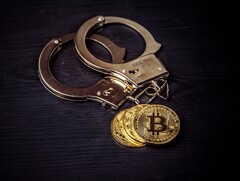 It's not just European countries like Germany in which authorities increasingly track down illegal transactions that involve cryptocurrencies. After president Biden has signed his new infrastructure bill into law earlier this week, it seems like a new crypto era is about to start in the United States. Even though a controversial passage in the bill could possibly be amended, the Internal Revenue Service expects to confiscate more crypto than ever before next year.
According to a report by Bloomberg, the IRS anticipates that in 2022 it will exceed the US$3.5 billion in crypto which have been seized during the fiscal year of 2021. Cryptocurrencies like Bitcoin (hardware wallet from US$59 on Amazon) already make up 93% of all assets seized by the American tax authority, likely because many crypto criminals feel rather safe due to the more anonymous nature of such digital currencies. It's nothing new that the IRS investigates criminal activities involving crypto, which include wire fraud, money laundering, tax evasion as well as trades with illegal substances.
But with the new mandate to report all crypto transactions exceeding US$10,000, the IRS now has an even stronger commitment to surveil crypto holders and how they utilize their digital assets. Should Biden's "Build Back Better" plan also pass, the IRS could receive a massive funding boost of US$80 billion, which would allow the tax agency to hire up to 300 additional special agents, who could be tasked with hunting down cyber and crypto criminals in particular.
My fascination for technology goes back a long way to the Pentium II era. Modding, overclocking and treasuring computer hardware has since become an integral part of my life. As a student, I further developed a keen interest in mobile technologies that can make the stressful college life so much easier. After I fell in love with the creation of digital content while working in a marketing position, I now scour the web to bring you the most exciting topics in the world of tech. Outside the office, I'm particularly passionate about motorsports and mountain biking.