BMW has officially unveiled the first round of its all-electric i5 sedan. The German marque launched the i5 in two distinct flavours — the i5 M60 xDrive and the i5 eDrive40. The eDrive40 is a more practical vehicle based on a single-motor rear-wheel-drive platform that delivers 313 hp, goes from 0-60 mph in 5.7 seconds, and has up to 295 miles of range.
The BMW i5 M60 xDrive, on the other hand, appears to be BMW bringing the heat to EV makers that like to market their vehicles with performance numbers. The i5 M60 xDrive delivers 517 hp via a dual-motor AWD setup that gets the luxury sedan to 60 mph in just 3.7 seconds. Range on the i5 M60 suffers, though, coming in at just 256 miles. My Mode Sport in the i5 M60 xDrive pushes the output to 601 hp. The rear-biased AWD i5 M60 xDrive can deliver 360 hp to the back wheels and 261 hp to the front, depending on where power is needed.
The i5 comes standard with vegan leather sports seats, a six-speaker entertainment system, four built-in USB Type-C ports, and cloud-based BMW maps. Seemingly following Tesla's lead, BMW has included gaming features on the i5's 14.9-inch central infotainment screen, although the gaming demo in the peculiar launch video makes it seem more like a mobile gaming experience as opposed to the PC games some Tesla vehicles can run. Fortunately, you're not forced to use BMW's notoriously clumsy iDrive operating system, since the i5 family supports Android Auto and Apple CarPlay as standard.
All of the i5 variants also come with two years of free 30-minute charging sessions at Electrify America charging stations, and they support 205 kW fast charging to recharge from 10% to 80% in just 30 minutes.
Of course, no new electric vehicle would be complete without automated driving features, and the BMW i5 has those in spades. Standard equipment includes Parking Assistant and Reverse Assist, while the optional Driving Assistant Professional includes things like Steering and Lane Control Assist, Distance Control, Highway Assistant, and Active Lane Change Assist, allowing the vehicle to take over much of your day-to-day driving responsibilities.
The BMW i5 M60 xDrive comes with an MSRP of US$85,750, while the i5 eDrive40 comes in at US$68,800. Given BMW's track record and recent announcement of the additional i7 and i4 variants, we can expect BMW to fill the gap between these two models at a later date.
Buy a SUNGUY 1.5FT USB C 3.1 Gen 2 cable with right-angle connector for Android Auto and data transfers on Amazon.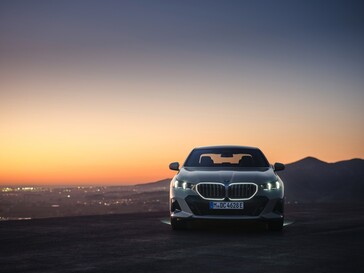 My interest in tech started in high school, rooting and flashing my Motorola Defy, but I really fell down the rabbit hole when I realised I could overclock the i7 930 in my Gigabyte pre-built PC. This tinkering addiction eventually lead me to study product design in university. I think tech should improve the lives of the people using it, no matter the field. I like to read and write about laptops, smartphones, software and trends in technology.