Apple's next smartphone SoC is now in production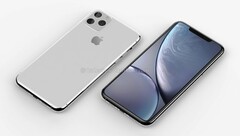 Bloomberg reports that the processor for this year's generation of iPhones has now entered production. This SoC, likely to be known as the A13 chipset, has apparently already entered production by TSMC at a testing stage. However, it is set to be mass-produced some time this month (May 2019).
A new report by Bloomberg asserts that Taiwan Semiconductor Company (TSMC) has starting fulfilling orders of the A13 chipset for Apple. This CPU is set to be incorporated in the upcoming 2019 series of iPhones. Acciording to the media outlet's sources, it was involved in test-run production at that chip-maker last month (April 2019). The A13's mass production was alleged to follow shortly; in other words, it could be underway at the time of writing.
Bloomberg also corroborated earlier indications that the A13s will go into 3 separate iPhone variants this year. They are thought to be direct generational upgrades for the current series: the iPhones XR, XS and XS Max. The publication also reiterated earlier leaks that the second generation of these devices will have square rear cameras.
As for the A13 itself, Bloomberg did not have any further new details on its footprint, architecture or custom funcitons. However, it is reasonable to assume that it may have the usual iterative enhancements in terms of power use, speed, AI functions and graphics performance. TSMC gains an estimated 20% of its annual revenue from the manufacture of these SoCs.