Apple iPhone 2017: iPhone 8 or iPhone 7s or both?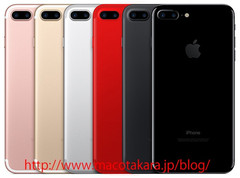 A weird rumor was brought to our attention today suggesting that next year's iPhones may only receive a minor update and may be called iPhone 7s after all. Does that mean, Apple will introduce both iPhone 7s and iPhone 8 next year?
September 2017 is still 9 months away but rumors about the next iPhones are in full swing already. While most analysts and reporters assume, that Apple will reveal a major redesign of the iPhone next year, featuring a curved OLED screen, a glass back and wireless charging, one rumor that was published on Japanese Apple fan blog Macotakara yesterday suggests otherwise. According to an anonymous source out of Taiwan, next year's iPhones will be named iPhone 7s and iPhones 7s Plus and be largely unchanged to this year's iPhone 7.
The source mentioned, that there will be a red color option and of course a faster A11 processor but no redesign, no glass back and no wireless charging. Most tech-sites we checked do not think this rumor holds water, since next year will be Apple's 10 year iPhone anniversary and Apple is likely to prepare something special for that occasion. Gizmochina suggests, that Apple may release four iPhone models next year, one iPhone 7s, one iPhone 7s Plus and two iPhone 8 models, that will receive most of the enhancements mentioned. Hard to believe, don't you think so?