Apple claims to be 100% green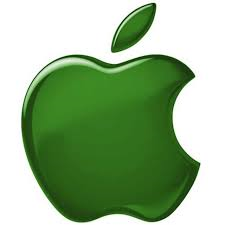 Apple has published a press release today claiming that the company is now 100% powered by renewable energy. The tech giant has heavily invested in a number of sustainable energy projects such as wind farms and solar power production. Apple's CEO, Tim Cook, has called the news a "significant milestone" and insists that the company will continue to be committed to a cleaner environment.
A press release from Apple has stated that the company is now "globally powered by 100% renewable energy." Considering the size of the firm (around 499 stores worldwide and 123,000 employees in 43 countries) this accomplishment is no mean feat. Google also has a similar claim, although that company purchases renewable energy to match the electricity consumed. Apple's report states that all of the company's offices, data centers, and stores worldwide are now completely powered by sustainable energy.
By publicizing this achievement Apple is issuing a challenge to other large companies, who often utilize emissions trading to offset their energy usage, to engage in the same level of clean energy investment. The company also mentions that a total of 23 of its manufacturing suppliers are also following Apple's commitment to operating on clean energy. The press release offers this fact to help put things into context:
Altogether, clean energy from supplier projects helped avoid over 1.5 million metric tons of greenhouse gases from being emitted in 2017 - the equivalent of taking more than 300,000 cars off the road.
Even though there are an estimated 268 million passenger vehicles in the US alone, Apple's achievement and continued commitment to a cleaner environment is still likely to be a step in the right direction.
Working For Notebookcheck
Are you a techie who knows how to write? Then join our Team! Especially English native speakers welcome!
Currently wanted:
News and Editorial Editor - Details here