Android Wear 2.0 coming to Fossil smartwatches later this month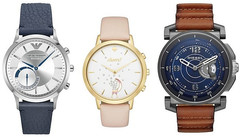 The new firmware begins to roll out today, and all compatible devices are expected to get it by the end of the month, reveals Fossil on Twitter. In addition to the original Q Founder, the newer Q Wander, Q Marshal, and Q Founder 2.0 are scheduled to receive the update as well.
Android Wear 2.0 might not be as spectacular as some expected it to be, but having an update ready for your wearable is still good news for most users. This month, Fossil plans to update its entire Q lineup, including the original Q Founder connected watch.
Although there is no official announcement about the update, the messages posted on Fossil's official Twitter account are as close as it gets to official confirmations of various facts. Such a message that was posted earlier this week reads the following: "The roll out has begun and will hit our Gen 1 devices first. The 15th is the date that remaining devices should receive the update."
There are not many changes delivered by Android Wear 2.0, but those who update their devices will probably enjoy at least one of the following: improved selection and customization of watch faces, a Google Play store client on the device, overhauled notifications that some will love while others would hate.