AndaSeat, a world-leading gaming chair brand with a history of manufacturing racing car seats for BMW and Mercedes Benz in less than two decades since it made its debut, is back with the Phantom 3. This ergonomic gaming chair will make its debut in the US for US$299.99 on the company's website.
The long list of specs and features of this new gaming chair includes a full-mechanist backrest that allows the user to recline from 90° to 160° and to lock in position as needed, a 100% TitanSteel framework, a class-4 SGS certified gas lift piston, velvet-covered XL lumbar pillow and M neck pillow, as well as large 60 mm (2.36 inches) smooth casters.
The only size available for the chair is L, which is recommended to users up to 1.8 meters (5 feet 9 inches) high and with a weight of up to 90 kilograms (200 pounds). The linen fabric finish is only available in gray, while the premium PVC leather variant can be acquired in black, pink, or white.
More details about the ergonomics, design, build, and materials used can be found in the press release embedded after the image gallery below.
AndaSeat launches the Phantom 3 Gaming Chair with reactive rocking function and up to 160° recline
The Andaseat Phantom 3 series is the ultimate comfy gaming chair users won't want to leave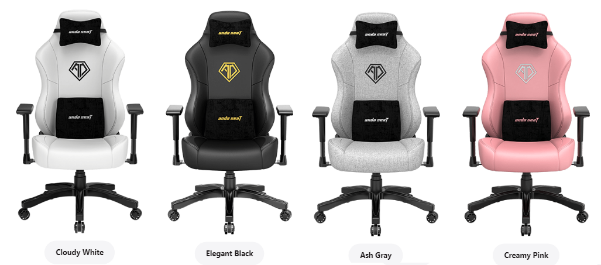 LONDON, 11th January, 2022 – World leading gaming chair brand, AndaSeat, who previously manufactured race car seats and partnered with prestigious brands in the sports and e-sports field, today announces the launch of its latest sumptuous series gaming chair -The Phantom 3. The latest addition to the AndaSeat ergonomic gaming chair range will first debut in the U.S. for $299.99 on the AndaSeat website.
The reshaped flatter seat wings on the Phantom 3 ensure a spacious and cozy seat base to deliver a much more comfortable experience when sitting cross-legged. Adding to the comfort, an ergonomic backrest nestles into the natural curvature of the back to keep those sitting in the chair at peak performance no matter how long they are sitting in it. Developed in DuraXtra™ Leatherette and EverSoft™ linen fabric and revolutionizing an easy assembly system, the Phantom 3 series provides a next-level sitting experience with ultimate all-day comforts.
Unlike other traditional gaming chairs, the Andaseat Phantom 3 series has a special modular MagClap design that can be assembled with ease. Just slide the backrest into the seat base, then clamp magnetic side covers on both sides. No difficulty assembling with screws, no damaged side covers, just one person who can finish the whole assembly process with ease. In a few minutes, the ultimate gaming chair and office chair are ready to go to battle with you!
The Andaseat Phantom 3 comes in four colorways and two surface materials-- DuraXtra™ Leatherette and EverSoft™ Linen Fabric. The leatherette comes in Black, White, and Pink, featuring smooth touch, scratch resistance, and stain resistance. DuraXtra™ premium PVC leather is much stronger so the shape lasts. The Linen Fabric Upholstery comes in Ash and is vastly superior for breathability to avoid a sweaty back and butt. EverSoft™ is certificated for its legendary safety and durability.
The featured "comfort tech" backrest allows the user to recline from 90° to 160° with full-mechanism backrest, and the chair can be adapted to whatever preference the user may have. No more hassles or struggles when taking a nap or watching a favorite show, just enjoy strain-free ergonomic support. Sit at any angle and lock the seat in the perfect position.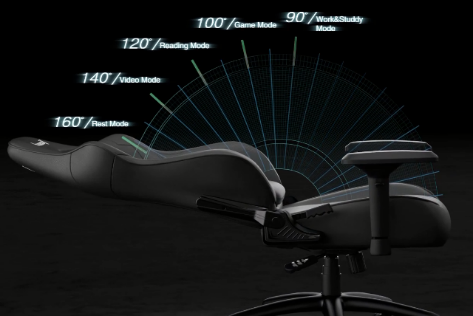 60kg/m³Re-Dense™ Moulded Foam, a perfect combination of strength and resilience, is used to upgrade density, enhance longevity, and alleviate the problems of 'sagging' seats over time. Coupled with a luxurious extra-large lumbar and medium-size head pillow that supports the lower back while keeping the spine in its natural alignment, this affordable gaming chair also prevents the user from slouching while gaming or working for long hours by filling in the space between the back/neck and backrest.
Product Highlights
DuraXtra™ Leatherette / EverSoft™ Linen Fabric

Re-Dense™ Moulded Foam

100% TitanSteel Framework

SyncTilt Backrest Recline & Lock 90-160°

Velvet Covered XL Lumbar Pillow and M Neck Pillow

Pre-installed PU Covered Armrest Up-Down

SGS Certified Class-4 Gas Lift
The Phantom 3 will first debut in the US and the MSRP is $299.99 on the AndaSeat website
High resolution imagery is available here and here
Product Highlights
DuraXtra

TM

Leatherette (Black, White, Pink)

EverSoft

TM

Linen Fabric (Ash)

Re-Dense

TM

Moulded Foam(60kg/m³)

100% TitanSteel Framework

SyncTilt Backrest Recline & Lock 90-160°

Velvet Covered XL Lumbar Pillow and M Neck Pillow

Pre-installed PU Covered Armrest Up-Down (can be uninstalled or replaced)

Large 60mm Smooth Casters

Premium Nylon Wheel Base

SGS Certificate Safe Class-4 Gas Lift
RECOMMENDED
Chair Size L
Recommended Weight <90kg (<200lbs)
Recommended Height <180cm (<5'9'')
About AndaSeat
Founded in 2007 and with a history of manufacturing racing car seats for BMW and Mercedes Benz, AndaSeat is the exclusive chair sponsor of China national football team and national volleyball team, making AndaSeat an indispensable brand in sport.
As esports has been a growing industry, AndaSeat shifted towards gaming chairs, offering players and video games industry professionals a healthy and comfortable playing experience thanks to their know-how with sports seats. AndaSeat has now become the worlds leading gaming chair supplier.
Anda Seat's range of products are deemed and recognized by professionals of the video game industry, and they the chair of choice for many esports team such as Fnatic, LGD, Navi Esports, Victorious Gaming, Victory Five and OMG. We've also collaborated with EXCEL, Chief, Buriram United Esport, WLGaming Esports, Marvel, Ubisoft and Hasbro etc.
For more info about AndaSeat please visit www.andaseat.com
In my early school days, I hated writing and having to make up stories. A decade later, I started to enjoy it. Since then, I published a few offline articles and then I moved to the online space, where I contributed to major websites that are still present online as of 2021 such as Softpedia, Brothersoft, Download3000, but I also wrote for multiple blogs that have disappeared over the years. I've been riding with the Notebookcheck crew since 2013 and I am not planning to leave it anytime soon. In love with good mechanical keyboards, vinyl and tape sound, but also smartphones, streaming services, and digital art.