Alpha outs Centurion Nano/Ultra Linux laptops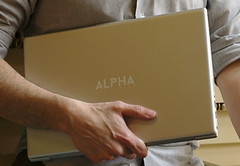 The new Centurion notebooks feature 1080p displays, and can be equipped with Intel gen 7 ULV CPUs up to i7-7500U. RAM can go up to 16 GB, with storage options including SSD + HDD combos. The 13-inch Centurion Nano costs as low as US$699, while the 15-inch Centurion Ultra bumps the price up to at least US$749.
If you're looking for a slim notebook and acknowledge the superiority of Linux over Windows, you could be interested in the two new Alpha laptops that come pre-installed with a Linux-based OS. The Centurion Nano and Centurion Ultra notebooks are powered by gen 7 ULV CPUs from Intel and feature stylish slim silver aluminum cases.

These new models can be customized to include the Core i5-7200U or the i7-7500U dual-core CPUs coupled with either 8 or 16 GB of RAM. Alpha offers three storage options: 128 GB SSD + 1 TB HDD, 256 GB SSD + 1 TB HD, or a single 960 GB SSD.

The Centurion Ultra comes with a 15.6-inch 1080p display powered by Nvidia's 940M GPU, and includes a second drive bay that allows users to add another storage drive. It also features 4 x USB 3.0 connectors, SD card reader, HDMI out, headphone jack and a USB Type-C for fast charging, plus the usual Wi-Fi and Bluetooth 4.0.

The Centurion Nano has a 13.3-inch 1080p display, but comes with only 2 x USB 3.0 connectors and no dedicated GPU. This allows a case thickness of only 0.37 inches and a total weight of 3 lbs, as opposed to the 4 lbs 15-incher. Both models are equipped with batteries that are supposed to last up to 9 hours.

Prices for the 13-incher start at US$699, while the 15-incher costs at least US$749, depending on the options. Both models can be ordered directly from the Alpha store.