All Cromebooks from 2017 on will be compatible with Android apps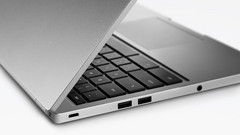 Google has announced that in addition to certain legacy models, all Chromebooks released in 2017 onward will have full Android app support.
Great news for Chromebook fans: Previously, the ability to run Android apps on ChromeOS was limited to a few devices participating in the beta program. Now, it has been clarified that all Chromebooks released this year and beyond will support Android apps, according to Google's compatibility list.
Amidst the initial announcement of Android app compatibility there was a flurry of speculation that it was a step to merge Chrome OS and Android into a new project. Hiroshi Lockheimer, SVP of Android, Chrome OS and Play, has stated that there will be absolutely no merging of Android and Chrome into "Andromeda". Still, the ability to run Android apps as seamlessly as possible through the productivity-focused Chrome OS will certainly be a boon to the already successful Chromebook product line.