MWC 2018 | AR apps to start hitting the Play Store as ARCore goes live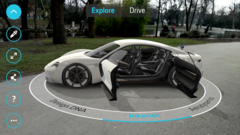 Google has used MWC to announce the that its ARCore SDK is now in version 1.0 allowing developers to start populating the Play Store with new AR-powered apps. The company says there are 100 million phone in circulation, with more to come this year, that support the technology.
Google's ARCore SDK is now out of preview with Google announcing the launch of ARCore 1.0 at MWC. The SDK is Google's response to Apple's ARKit and is expected to result in an influx of new AR-powered games on the Google Play store. ARCore gives developers the ability to build apps that can understand a physical environment allowing objects and information to be placed with in it. To facilitate the launch, Google has also updated the Google Lens app.
The Mountain View-based company says that ARCore works on around 100 million smartphones, giving them advanced AR capabilities. Of these, devices supported include Google's first- and second-gen Pixels, Samsung's Galaxy S8, S8+, Note 8, S7 and S7 Edge. LG's V30 and V30+ also support ARCore, as do the Asus Zenfone AR and the OnePlus 5. Forthcoming devices from Sony, Samsung, Huawei, LG, Motorola, Asus, Xiaomi, Nokia, ZTE and Vivo will also support the new technology.
Google says that it has partnered with a range of companies to develop an assortment of apps designed to showcase the new technology. These include Snapchat, Sotheby's International Realty and Easy Homestyler. A new app from Porsche lets you place the Mission E Concept on your driveway and explore how it works. The update to the Google Lens app taps into the power of AI and computer vision to give users the ability to get more information about what it detects in each photo.