AMD's new naming scheme for its mobile CPUs seems purposefully confusing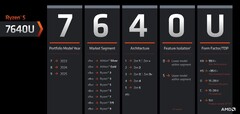 Views, thoughts, and opinions expressed in the text belong solely to the author.
Looking back at the launch of the first mobile Ryzen CPUs in 2018, things were quite a lot simpler back then. There were two classes of products, Ryzen U with 15 W and Ryzen H with 45 W, and the first lineup, called Ryzen 2000, encompassed nine different CPUs. The top model was the AMD Ryzen 7 2800H.
Of course, with the success of Ryzen, AMD had to expand its portfolio, increasing complexity. And with Ryzen 3000, AMD began to relabel old CPUs - the Ryzen 3 3200U was a Zen CPU of the first generation, while the Ryzen 3 3300U was a newer Zen+ chip. For customers, this was not transparent.
Come 2020 and Ryzen 4000, AMD thankfully stopped doing this and anything branded Ryzen 4000 was always based on Zen2. But with Ryzen 5000, the practice of renaming older CPUs returned. Lucienne chips like the Ryzen 5 5500U were based on Zen2, while Cezanne CPUs like the Ryzen 5 5600U were already newer Zen3 chips. Buyers of the latter thus got newer technology than buyers of the Ryzen 5 5500U.
With the next generation, AMD stopped doing this once again. This time around, Cezanne was renamed into Barcelo and still marketed as Ryzen 5000. Only the newest Rembrandt CPUs were allowed to carry the "Ryzen 6000" name.
Apparently, this honesty did not pay off, customers probably did not want to buy new laptops with Ryzen 5000. What other reason could AMD have to introduce the new naming scheme for the mobile Ryzen processors - after all, the most important reform is that AMD will now be able to sell older Zen chips as Ryzen 7000.
So now, there will be the new Mendocino series, which are 2020's Zen2 chips brought back to life as Ryzen 7x20. Barcelo (Ryzen 7x30) and Rembrandt (Ryzen 7x35) will also continue on. Zen4, the hotly anticipated new CPUs, are relegated to the high-end as Ryzen 7x40 (Phoenix) and Ryzen 7x45 (Dragon Range).
The problem: The most important part of the model number, the CPU generation, is the third digit. Logically, the first two digits in a four digit number should be the most important ones.
AMD has not announced any concrete model numbers yet, but it is easy to imagine how confusing these number-games can be for regular consumers. For example, a customer may have the choice between a Ryzen 7 7730U and a Ryzen 7 7740U - one is based on Zen3 from 2021 and is still paired with old Vega-GPUs, while the other is a chip of the newest Zen4 generation, even though only the third digit of the model number is different. Transparent for customers? Not at all!
To us, the new AMD naming scheme for mobile CPUs borders on malignant customer-confusion-tactics. If something is marketed as Ryzen 7000, it should be based on Zen4. Instead, AMD will again sell old technology under a new brand name.
I was an ardent reader of Notebookcheck's laptop reviews even back in school. After writing reviews as a hobby, I then joined Notebookcheck in 2016 and have worked on device reviews and news articles ever since then. My personal interest lies more with laptops than smartphones, with business laptops being the most interesting category for me. Technology should make our lives and work easier and good laptops are an essential tool for that to happen. This is why laptop reviews are not just my work but are also my passion.