AMD reveals codename for upcoming 7 nm gaming GPUs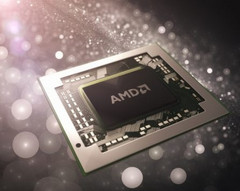 AMD is planning to launch a 7 nm gaming GPU codenamed Arcturus some time in 2020, but before that, the red team needs to come up with a viable alternative to Nvidia's new Turing GPUs first. Rumor has it the Navi GPUs scheduled for next year are still on the GTX 1000-series level, but, since the RTX 2000-series is overpriced for now, AMD might have enough time to fine-tune the Navi cards and even push for more aggressive prices.
Nvidia launched a quite controversial RTX 2000-series of gaming GPUs and everybody is now waiting to see AMD's next move. It is already known that the 7 nm Instinct GPUs are not going to target the gaming market, so the next gen gaming GPUs from AMD are still shrouded in mystery. Previous rumors claimed that Navi should be the codename for the 7 nm gaming GPUs scheduled for 2019, but these might not end up faster than the Pascal GPUs from Nvidia. The red team is also preparing to launch the Polaris 30 GPUs that should bridge the gap between the Vega 10 and the older Polaris 20.

If all these codenames are becoming a bit confusing, AMD is surely content with the naming scheme for now and does not even mind dropping a new codename to spice things up for the rumor mills. According to an AMD Linux driver development employee on the Phoronix forums, the gaming GPUs coming after Navi is internally codenamed Arcturus and will probably launch in 2020. The employee is suggesting that AMD is likely to return to distinct codenames for upcoming architectures, since the current scheme is not
While the Polaris 30 GPUs are going to compete with already "previous gen" Pascal GPUs from Nvidia, Navi is most likely going to be AMD's answer to the new Turing GPUs, which are quite expensive now. Arcturus, on the other hand, is too far away to speculate on when Instinct is not even launched yet.