AMD A6-5345M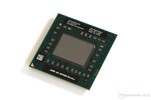 The AMD A6-5345M is a mobile ultra-low-voltage dual-core processor based on the Richland architecture. The APU integrates one module with 2.2 to 2.8 GHz, a Radeon HD 8410G graphics card and a DDR3(L)-1333 memory controller.
Compared to Trinity, Richland has been modified just slightly. Therefore, no changes in the feature set or the Pro-MHz performance can be reported. The design of the chip is still based on the Bulldozer architecture, which consists of so-called modules. Each module integrates 2 integer units, but only one FPU. Just like Trinity, Richland supports nearly all current techniques such as AVX (including FMA), AES or Turbo Core.
The CPU performance of the A6-5345M should be slightly above the A6-4455M and similar to the Pentium 987. For everyday tasks such as Internet or Office the performance is adequate, but not for very complex software or modern games.
The graphics unit called Radeon HD 8410G offers 192 shader units (VLIW4) and is slightly slower than the HD Graphics 4000. The core is clocked at 450-600 MHz (turbo).
The power consumption of the entire APU is rated at 17 watts, which is similar to other ULV CPUs. Therefore, the APU is suitable for 12-inch ultraportables or bigger.
Series
AMD A-Series
Codename
Richland

Series: A-Series Richland

Clock Rate
2200 - 2800 MHz
Level 2 Cache
1 MB
Number of Cores / Threads
2 / 2
Power Consumption (TDP = Thermal Design Power)
17 Watt
Manufacturing Technology
32 nm
Features
SSE (1, 2, 3, 3S, 4.1, 4.2, 4A), x86-64, AES, AVX, FMA, DDR3-1333 Controller
GPU
AMD Radeon HD 8410G (450 - 600 MHz)
64 Bit
64 Bit support
Architecture
x86
Announcement Date
05/23/2013
Benchmarks
- Range of benchmark values for this graphics card

- Average benchmark values for this graphics card
* Smaller numbers mean a higher performance
v1.22
log 26. 21:43:12
#0 no ids found in url (should be separated by "_") +0s ... 0s
#1 not redirecting to Ajax server +0s ... 0s
#2 did not recreate cache, as it is less than 5 days old! Created at Sat, 25 Mar 2023 14:08:33 +0100 +0.001s ... 0.001s
#3 composed specs +0.015s ... 0.016s
#4 did output specs +0s ... 0.016s
#5 getting avg benchmarks for device 4159 +0.002s ... 0.017s
#6 got single benchmarks 4159 +0s ... 0.018s
#7 got avg benchmarks for devices +0s ... 0.018s
#8 min, max, avg, median took s +0s ... 0.018s
#9 return log +0.032s ... 0.05s
No reviews found for this CPU (yet).