A new Android slate by LG surfaces online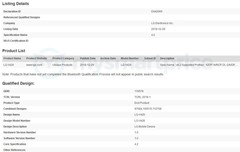 The upcoming Android slate is now known only as the LG-V426 and we know that it received its Bluetooth and WiFi certifications already. Unfortunately, most of its specs are not public yet but, if we get lucky, we might see it on display at CES or at the MWC. Otherwise, its launch is expected to take place by the end of the first quarter.
Those looking for a new Android tablet nowadays don't have many options at their disposal, but at least there seem to be a few such devices in the pipeline. LG is one of the big brands working on an Android slate — the V426 — and, if nothing unexpected happens, this tablet should hit the market in a few months.
Before anything else, we must add the fact that LG still has to make an official announcement regarding the LG-V426. However, this device has been certified by the Wi-Fi Alliance and the Bluetooth SIG already, so it is definitely on its way. The processor details and a few other essential pieces of information are still missing, but we already know the following: Bluetooth 4.2 LE, WiFi 802.11 a/b/g/n with Miracast support, and nothing more. On the other hand, since most modern chipsets feature Bluetooth 5.0 support, it is rather safe to assume that the upcoming LG tablet has a rather outdated processor inside. Which one is something that remains to be seen.
Last month, the Korean Intellectual Property Office approved a patent for a tablet with a cover and wireless keyboard by LG, so it would not be surprising to see the LG-V426 using this traditional design. If we get lucky, we should see this slate at CES later this month — or at least during MWC, at the end of February. Otherwise, the LG-V426 is rumored to hit the market by the end of the first quarter.