4 reasons why the Valve Steam Deck is an entirely different beast of a console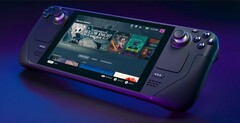 The choices and comments made on this list belong solely to the author.
1. Price
The Steam Deck is priced incredibly competitively for what it delivers. It may not be capable of pushing the same number of frames as a PlayStation 5 or an Xbox Series X, but it is definitely no slouch, especially when it comes to handheld gaming machines. For the level of performance it offers to be available at a starting price of US$399 is a design and engineering marvel, especially seeing as though it launched during one of the worst semiconductor shortages in modern history.
2. Components
Inside the Steam Deck there is a custom AMD Zen 2 APU, with 4 SMT-enabled cores and RDNA 2 graphics running the show. This is excellent news not because "Intel bad, AMD good," but because it means Valve had significant control over the design and specifications, and considerations were given when customising the part to make sure that it was fit-to-purpose.
This is especially important in a mobile device and needs to meet specific thermal, power and noise requirements. This is unique to the Steam Deck in regard to handhelds and should give it a leg up on its competition, like the AYA NEO or GPD Win Max devices, because they just use a laptop CPU or APU and make adjustments to the thermal envelope or try their best to cool the chips.
The Steam Deck is more than powerful enough to serve as most people's only PC or console. Check out this Anker USB-C hub to connect your display and peripherals when you're not on the run.
3. Right to Repair
While Valve published a video called "Take a look inside Steam Deck™!" wherein a production unit was taken apart, the company also started the video off with huge yellow lettering across the screen saying "You shouldn't do any of this." This sent mixed messages, because the Steam Deck actually seemed like it was designed to be taken apart and repaired.
The screws to open the back are easily visible and accessible, there are no "Warranty void if removed," stickers over any of them, and a surprising amount of the components are modular – the joysticks, buttons and SSD are all easily user-replaceable.
What's more is that Steam has said that it will be partnering with iFixit to supply replacement parts. This is great news in a time when more and more manufacturers are designing devices to make repair more difficult seemingly deliberately.
4. OS/Software
While most of its competition ships with Windows preinstalled, the Steam Deck ships with its own custom operating system called SteamOS. This is an Arch Linux-based Linux distribution that Valve has been working on for more than a few years.
The OS is important because it allows Valve to have even further control over things like power consumption, background activities and future software updates and features, whereas other handhelds would have to include separate utilities to manage all this and have little to no control over Windows and its updates.
Furthermore, Valve has been hard at work developing its Proton compatibility layer to make sure that even Windows-only games work out of the box. Valve has even been working with AMD to get FidelityFX Super Resolution working across the board.
My interest in tech started in high school, rooting and flashing my Motorola Defy, but I really fell down the rabbit hole when I realised I could overclock the i7 930 in my Gigabyte pre-built PC. This tinkering addiction eventually lead me to study product design in university. I think tech should improve the lives of the people using it, no matter the field. I like to read and write about laptops, smartphones, software and trends in technology.