3 best laptop features that never made it mainstream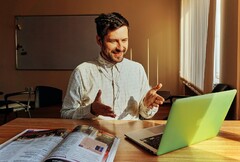 The choices and comments made on this list belong solely to the author.
1. Swappable GPUs
This one is a big deal for me, personally as a laptop gamer. One of the biggest disadvantages of laptop gaming is that once you buy your device, with the exception of RAM and storage, that's it - you have to be happy with what you have. If you suddenly want to play a more demanding set of games, you're out of luck or you're stuck fiddling with settings to get the framerate to an acceptable level. Not so if your laptop has an MXM expansion slot; then you would just hop on to the GPU manufacturer website and order a beefier GPU.
The Mobile PCI Express Module (MXM for short) is a standardized connector, just like PCIe and DDR and has existed for over a decade. There are a few manufacturers like Clevo (also sold under XMG and Sager branding, like this XMG Ultra 17 we reviewed) that do make use of these, but they also use socketed CPUs, so they are far from the norm here.
2. Secondary displays
This one is kind of self-explanatory. Who hasn't thought that laptop screens are too small? As a creative way of solving the screen size problem, some manufacturers, like ASUS with its ZenBook devices, have taken to simply adding another screen. Unfortunately this solution has not yet fully made it into the mainstream, since it does tend to drive up cost and comes with it's own set of sacrifices. That being said, there's nothing quite like it around - except maybe a portable monitor set up next to your laptop?
3. Adaptive refresh displays
To say this is not in the mainstream is a bit misleading - it is almost certainly coming soon to the mainstream. It may surprise some newer techies out there that 1080p and higher resolutions have only recently become the norm for laptop displays. A lot of people forget that this revolution was largely due to Apple and its MacBooks. Well, the MacBook maker is doing it again. This time with adaptive refresh rate displays.
120 Hz, 144 Hz, 240 Hz, even 360 Hz. These are all refresh rates available on even budget gaming laptops, but do we really need those kind of hertz numbers when scrolling Facebook or filling out an Excel spreadsheet? No, not really. That's where adaptive refresh comes in. This is a feature where the driver on your machine drops the refresh rate down, when practical, in order to save battery life - and longer battery life is something we can all celebrate.
My interest in tech started in high school, rooting and flashing my Motorola Defy, but I really fell down the rabbit hole when I realised I could overclock the i7 930 in my Gigabyte pre-built PC. This tinkering addiction eventually lead me to study product design in university. I think tech should improve the lives of the people using it, no matter the field. I like to read and write about laptops, smartphones, software and trends in technology.