1MORE PistonBuds Pro TWS ANC earbuds hands-on: When budget pricing meets next-tier audio experience
Before anything else, I must admit that it took more than a few days for the 1MORE PistonBuds Pro to grow on me and finally reveal themselves as the excellent entry-range TWS ANC earbuds that they are. After only a few encounters, I still wasn't happy with the ergonomics and the sound. However, it took over a week of moving back and forth between these and other products from the same category, such as the more expensive 1MORE ComfoBuds Mini, to finally realize how good the 1MORE PistonBuds Pro are for their price, which is discounted to US$59.99 for US-based customers at the time of writing.
In addition to 1MORE's proprietary AI-driven QuietMax active noise cancelation technology (up to 38 dB), the PistonBuds Pro also feature AI-powered sound enhancement in calls that uses the audio input provided by the four microphones (two per earbud), and a low-latency gaming mode. SoundID and other mid- to high-end technologies are not present, but there are a few studio-grade EQ presets alongside the possibility to save, load and edit custom EQ settings.
Today's review comes after more than two months of using this product, so it also includes real-life experiences including a few falls, drops and usage in low temperatures and rain.
Technical specifications
| Wearing style | In-ear |
| --- | --- |
| Model | EC302 |
| Connectivity | Bluetooth 5.2 |
| Speakers | 10 mm Titanium driver, dynamic, 16 Ω |
| Audio codecs | SBC, AAC |
| Water resistance | IPX5 (earbuds only) |
| Noise canceling | QuietMax, up to 38 dB |
| Sound effects | EQ presets and custom EQ, transparency mode, low-latency mode |
| Charging port | USB-C |
| Wireless charging | No |
| Battery capacity | 38 mAh / 410 mAh (earbud/case) |
| Battery life (ANC on/off) | 5 hours / 7.5 hours for earbuds (20 hours / 30 hours for buds and case) |
| Weight (earbuds/case) | 4.5 g / 30 g |
| Microphones | 2 microphones per earpiece |
| Colors | White, Black |
| MSRP | US$69.99 |
Box contents, design, build quality
The white cardboard box of the 1MORE PistonBuds Pro might be protecting a Luca Bignardi-tuned product, but the magnetic closure and the DaVinci-style drawings are nowhere to be found. In addition to the earbuds and the charging case, the box contains a USB-A to USB-C cable, the user manual, the same QR code card present in the package of most 1MORE products (leading to a product validation page), as well as three additional pairs of silicone eartips. As usual with 1MORE headphones, the technical details and features are printed on the front, left side, and back of the retail box.
The PistonBuds Pro version that I received comes in white and sports silver logos on the charging case and the earbuds. For the black variant, 1MORE replaced silver with gold. The plastic material is solid enough and feels pleasant to touch, but it gets dirty in a jiffy and cleaning it is not as easy as one would assume. On a more positive note, the case fits nicely in small pockets thanks to its rounded edges. The earbud reset button is placed on the back of the case, and a single LED indicator sits in the middle of the front side. Overall, the build quality and materials are very good for the price.
As their name suggests, the earbuds are piston-shaped. They are medium-sized and very easy to pick up and handle. Adjusting their in-ear fit is also very easy to do. Once the user has installed the appropriately sized eartips, it is almost impossible for the PistonBuds Pro to fall out. In my case, very long phone talks, eating, chewing gum, doing push-ups, or headbanging never managed to make these earbuds fall off.
Real-life usage: Excellent fit, very good sound, rather short battery life
The 1MORE PistonBuds Pro's firmware is upgradable, so the first thing to do after taking them out of the box is to install the 1MORE MUSIC app and use it to check for an update and install it if available. As I mentioned earlier, they fit nicely in my ears and handling them is very easy, even for people with large hands. However, their size may lead to unwanted touches while handling glasses and some might not enjoy the way they protrude.
The most interesting part about the sound delivered by these earbuds is that the response depends a lot on the sound source and settings used, more than I noticed with similar products. My first impression was that all I can get would be a rather flat response, leaning towards the lower area of the audio spectrum, and an overall boring experience. Fortunately, I was wrong. The sound delivered by the 1MORE PistonBuds Pro has often more depth than expected from these small enclosures. Enabling ANC does not provide a dramatic change in the audio experience, but this happens by narrowing the range of frequencies filtered out as well.
While a total of four microphones with AI-powered call improvement should get the job done, I couldn't make myself understood during phone calls in crowded areas. On the bright side, while wearing a beanie and a hood on top of it, I was able to make myself heard unexpectedly well, as long as the traffic around me was not too noisy. In calls, the incoming sound is always loud enough and clear. Sometimes, the sound is too loud compared to music at the same volume.
I usually keep the volume around 60 percent when using the 1MORE PistonBuds Pro and I managed to get about 4 hours of battery life with ANC on, which also included a few phone calls. Keeping ANC disabled doesn't result in the advertised 7.5 hours of battery life, but with the volume around 70-75 percent, I usually got around 6 hours. Others might consider this to be rather short, but it should be long enough for most regular use cases. Keep in mind that 1MORE's advertised battery life figures are the result of tests conducted at 50 percent volume.
Software: 1MORE MUSIC delivers as expected
The 1MORE MUSIC app has reached version 4.7.5 and the list of features available when using the PistonBuds Pro includes a low-latency switch, 12 studio-grade built-in EQ presets and custom EQ, smart playback, as well as custom settings for double and triple tap. The only ANC modes available are "Strong" and "WNR", while the transparency mode offers pass-through ambient awareness.
In addition to the above, the app also sports a burn-in feature, the ability to check the visual six-step quick user guide, and to play soothing sounds. In the beginning, the app was not able to retain the ANC settings for the 1MORE PistonBuds Pro, but everything works fine now. At the time of writing, the latest firmware version was 1.0.5. As it happens for all other 1MORE products that work with the app, this software companion is available for both Android and iOS devices.
Conclusion: A fine piece of audio hardware well worth its price tag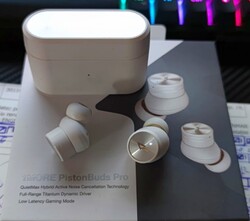 The 1MORE PistonBuds Pro are very versatile when it comes to sound quality for music. While testing these earbuds, I enjoyed the sonic experience in both vocal-heavy light tracks and black metal, something that doesn't happen often with budget products. The low-latency gaming mode helps in certain situations, although the latency is still lower than in most sub-US$100 TWS that I've tested. The case is easy to handle, light, and looks good. As usual, the software companion gets the job done. Connectivity is rock-solid and I had no problems remaining connected about 5 meters away and a concrete wall separating me and the 1MORE PistonBuds Pro from the phone.
As I was expecting, the soothing sounds could have simply been slashed from the app for the 1MORE PistonBuds Pro. The earbuds also can't be customized separately. Battery life is all right, but slightly shorter than expected. The charging case gets dirty and scratches easily, and it would be nice to have at least a red or blue color variant in addition to the two-item list of color choices. Furthermore, the list of EQ presets still doesn't include settings suited for rock and metal.
Sometimes it's difficult not to compare budget offerings with competing products that cost at least twice as much. But even without lowering my expectations according to the price, the 1MORE PistonBuds Pro impressed me. However, it did not happen on the first or second day, so those who want the best sound experience right out of the box might want to take some time to burn them in first or at least to spend enough time to find the right settings. All in all, the 1MORE PistonBuds Pro provide a lot of bang for the buck and should satisfy most prospective buyers in this price range.
Disclaimer: The author of this review received the 1MORE PistonBuds Pro from 1MORE free of charge for the purpose of testing.
Price and availability
The 1MORE PistonBuds Pro TWS are now available from 1MORE US for US$59.99, down from the regular price of US$69.99. A limited-time offer that includes a coupon will bring the price down to US$49.99, with free ground shipping for US customers. 1MORE's global website has no deals for the PistonBuds Pro, which can be acquired for US$69.99, but various local taxes and shipping costs might increase the final cost. On Amazon US, those interested can grab the PistonBuds Pro for US$59.99.
Source(s)
1MORE (official product page, US English)
In my early school days, I hated writing and having to make up stories. A decade later, I started to enjoy it. Since then, I published a few offline articles and then I moved to the online space, where I contributed to major websites that are still present online as of 2021 such as Softpedia, Brothersoft, Download3000, but I also wrote for multiple blogs that have disappeared over the years. I've been riding with the Notebookcheck crew since 2013 and I am not planning to leave it anytime soon. In love with good mechanical keyboards, vinyl and tape sound, but also smartphones, streaming services, and digital art.