Introduction
1MORE is an up-and-coming audio company that has an extensive catalog of earbuds and headphones, both wired and wireless. The company's products strive to balance design, quality, and price. Customer and professional reviews around the Internet indicate that 1MORE is succeeding in its quest.
The 1MORE True Wireless ANC In-Ear Headphones are the company's flagship wireless earbuds. 1MORE sent me a pair for review, and I've used them as my daily drivers for the past two months. Can these buds compete with other wireless earbud heavyweights like Sony, Bose, Apple, and Sennheiser? (Spoiler alert: yes, they can.)
As a quick primer, I also own and regularly use the Jaybird Tarah wireless headphones for workouts. These are tethered to each other and aren't true wireless headphones. I alsohave experience with Apple's AirPods. During my review period, I used the 1MORE earbuds with my iPhone 8, a MacBook Pro running macOS 10.12 Sierra, and a Windows 10 PC.
Design and Fit
The 1MORE True Wireless ANC earbuds have a black carbon fiber weave encased in glossy translucent black plastic. The subtle red accents add some nice flavor to the overall aesthetic. The buds feel solid and sturdy; they could easily survive multiple falls from ear height.
The buds are significantly bulkier than Apple's AirPods or tethered earphones like the Jaybird Tarah. They lack the stem present on the AirPods, so all the hardware must fit into the body behind the earpiece. As a result, they stick out a fair bit from my ears and are quite noticeable. Still, the buds are compact and light enough (~8 g) that I don't notice them during extended use.

The buds fit comfortably into my ear canal. After a few seconds, I don't notice them anymore. 1MORE includes six sets of tips with the True Wireless ANC headphones to ensure a secure fit and good seal.
The included wings are a different story. There are three different sizes to choose from, but none of them quite do the job. The buds sit securely in my ears during normal use, but they slip out of place when I jog or exercise. They have yet to fall out of my ear in the two months I've used them, but I have to reset the buds after about 10-15 minutes of active movement. Your mileage may vary.
Battery Life and Charging
One area where the 1MORE True Wireless ANC In-Ear Headphones excels is battery life. 1MORE rates the battery at 6 hours (volume 50%, active noise-canceling [ANC] off), and that's about what I get. A voice tells you what the battery life is when the buds turn on (high, medium, or low), and my iPhone displays the battery life as it does with other Bluetooth audio devices. Turning ANC on reduces battery life to about 4 hours in my experience. Turning the volume up reduces battery life further; with the volume set to 100%, the buds hit 4 hours with ANC off and 2.5-3 hours with ANC on.

The charging case is made from premium metal. It charges the buds from zero to full in about 60-75 minutes. The case grants five to six recharges, which translates to an additional 15-20 hours. The buds are held in the case by reasonably strong magnets that snap them into place. The case charges via the included USB-A to USB-C charging cable or by Qi wireless charging.

Audio Quality and Technology
When the case opens, the buds turn on and connect to a paired device automatically. By the time I've put the buds in my ears, they're already on and take 2-3 seconds to connect. If one bud is taken from the case, the remaining bud won't connect. There are times when I only want one bud in, so this is a nice feature. Pulling out the second bud seamlessly connects it to the other; audio playback continues without interruption and switches to stereo sound without a hitch.
The overall audio quality is excellent. I'd put the 1MORE buds on par with Apple's AirPods and just behind premium earbuds like Sennheiser's MOMENTUM True Wireless buds. They sound better than my Jaybird Tarah headphones out of the box, though the Tarahs can be tuned via software.
The 1MORE True Wireless ANC Headphones are the world's first THX®-certified true wireless earbuds, according to 1MORE. I can tell the company worked hard for that certification; audio is distortion-free, even at full volume, and audio is well-balanced, particularly in stereo. The buds are also great at highlighting subtle sounds that are lost in other true wireless buds.

The 1MORE buds' dual drivers are tuned well for most music. They are bass-rich with a full body. Hip hop, rock, and jazz all sound excellent. Spoken word (e.g., podcasts, audiobooks, etc.) is the weakest genre, though it is still enjoyable. Lower voices boom and become muddled, though higher-pitched voices come through clearly. Overall, the buds' audio tuning is fantastic. The sound profile has a U-shape pattern (loud bass, flat mids, and moderately high treble) that accommodates a wide variety of music.
My main critique is that the overall volume is soft. The 1MORE earbuds sound as loud at 100% volume as AirPods do at about 60-70%. At the recommended 50% volume, the 1MORE True Wireless ANC In-Ear Headphones are fairly quiet and can be hard to hear outdoors.
The 1MORE True Wireless ANC In-Ear Headphones connect via Bluetooth 5. The earbuds support aptX and AAC audio. The buds maintain a solid connection up to about 8-9 meters, even through multiple interior walls.
Pulling a bud out of an ear causes music playback to stop, thanks to small infrared sensors embedded in the in-ears. This feature works reliably and is a nice touch; when someone is talking to me, I can pull a bud out and not have to fuss about with controls to pause my music.
The big draw is the active noise-canceling (ANC) feature. The 1MORE in-ears have two ANC settings: One blocks out sounds up to 35 dB, while the other kills sound up to 20 dB. This mode is a godsend for those who do yard work or jog in areas with busy traffic (like me). The ANC does a good job in blocking out most of my lawnmower's louder-than-average engine, and traffic noise falls to a dull rumble rather than its typical persistent roar.
The buds also have an audio passthrough feature that uses the two microphones on each bud to allow ambient sound through. This mode works well, though the sounds coming through are tinny and mechanical. Users can also record audio and talk on the phone with these microphones. Callers said I sounded clear when speaking via the in-ears, though my voice sounded distant and quiet.
One thing I'd like to see in future revisions is the ability to run the earphones' audio through software (like a dedicated app). My Jaybird Tarah headphones' greatest strength is the dedicated Jaybird app, which allows me to tune and save audio profiles directly to the headphones. 1MORE would do well to implement a similar solution here.
Conclusion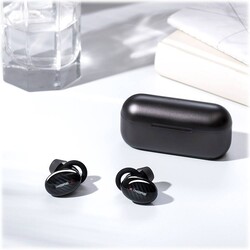 1MORE hit a home run with its True Wireless ANC In-Ear Headphones. For US$200, the earbuds have to compete with the best of the best in the wireless audio world. To that end, they do well. The buds are comfortable, solidly built, offer excellent battery life, and are easy to use. Additionally, the ANC feature is one of the best I've seen implemented in Bluetooth headphones (fully wireless or not). The passthrough feature isn't anything to write home about, but the two levels of ANC do a great job of blocking out external noise.
There are a few downsides. The buds' audio tuning is a bit too bassy for my tastes. Music sounds good across multiple genres, but spoken word gets muddled. The fit isn't quite as good as other wireless earphones, though this may vary from user to user. Lastly, the lack of audio tuning via software is noticeable.
However, for $200, the sound quality, build quality, and feature set represent excellent value. The 1MORE True Wireless ANC In-Ear Headphones are easy to use, sound great, and they have one of the best ANC implementations available on fully wireless earbuds.
The 1MORE True Wireless ANC In-Ear Headphones are available for $199.99 from 1MORE, Amazon, and other retailers. At press time, 1MORE will run a Black Friday/Cyber Monday sale, dropping the buds' price to $139.99. Notebookcheck readers can save and additional 10% by using the offer code NOTE10 at checkout through December 3, 2020.

Disclaimer: The author of this review received the 1MORE True Wireless ANC In-Ear Headphones free of charge for the purpose of testing.
I've been a computer geek my entire life. After graduating college with a degree in Mathematics, I worked in finance and banking a few years before taking a job as a database administrator. I started working with Notebookcheck in October of 2016 and have enjoyed writing news and reviews. I've also written for other outlets including UltrabookReview and GeeksWorldWide, focusing on consumer guidance and video gaming. My areas of interest include the business side of technology, retro gaming, Linux, and innovative gadgets. When I'm not writing on electronics or tinkering with a device, I'm either outside with my family, enjoying a decade-old video game, or playing drums or piano.