1MORE Aero TWS ANC earbuds hands-on: Good battery life and overall sonic experience, but spatial audio fails to impress
Although they look similar to the ComfoBuds 2 and the ComfoBuds Pro, the 1MORE Aero TWS ANC earbuds arrive as the first product from this brand to feature spatial audio. In addition to this highlight and the less popular, but often useful smart loudness feature, this product is another one that carries the signature of Grammy Award Winning sound engineer Luca Bignardi.
Other highlights that justify the US$109.99 MSRP (for US-based customers) are the 42 dB QuietMax AI noise cancelation and a total of six microphones that work with an AI-powered DNN algorithm to deliver the natural sound of your voice in calls while eliminating background noise.
Technical specifications
| Wearing style | In-ear |
| --- | --- |
| Model | ES903 |
| Connectivity | Bluetooth 5.2 |
| Speakers | 10 mm driver, dynamic, 32 Ω |
| Audio codecs | SBC, AAC |
| Water resistance | IPX5 (earbuds only) |
| Noise canceling | QuietMax, up to 42 dB in the 40 - 4000 Hz range |
| Sound effects | Spatial audio, smart loudness, EQ presets and custom EQ, transparency mode |
| Charging port | USB-C |
| Wireless charging | Case only |
| Battery capacity | 40 mAh / 450 mAh (earbud/case) |
| Battery life (ANC on/off) | 5 hours / 7 hours for earbuds (20 hours / 28 hours for buds and case) |
| Weight (earbuds/case) | 4.9 g / 45.2 g |
| Microphones | 3 microphones per earpiece |
| Colors | White, Black |
| MSRP | US$109.99 |
Box contents, design, build quality
The retail box of the 1MORE Aero is just what I would expect from a mid/higher-end product from this brand, with the magnetic closure for the plain cardboard box in place. Obviously, the DaVinci-style drawings are also present inside it. While the only color choices are white and black, there are a few discrete red touches on the ear tips. Nothing out of ordinary, but definitely a smart design choice that makes the 1MORE Aero look special.
The charging case is made of high quality, mate plastic. The texture is pleasant, but I consider the case not that easy to handle and, to be honest, too large as well. For me, picking up the earbuds from the case is quite tricky, although I have thin fingers. Thankfully, once this stage is complete, the earbuds are very easy to handle and they fit in nicely.
Overall, the 1MORE Aero feel like a well-built product made using materials that feel way above average, but I consider the case design quite fragile. Despite the quality of the material, repeated drops will surely damage the case's cover. I only dropped the 1MORE Aero twice in about 10 days and everything's still all right, but I definitely have to pay extra attention while handling them from now on.
Real-life usage: Excellent ANC, interesting spatial audio, lower than expected battery life
As soon as I got the earbuds connected to my smartphone, I updated the firmware to the latest version available and I started to adjust the settings to better suit my needs. Overall, the 1MORE Aero are better fitted for electronic music, but sometimes even light vocal tracks and classical music sound great. The smart loudness feature is very efficient in improving the experience in certain scenarios, but it sounds artificial in some songs. However, in many cases, I felt the need for a better response in the high frequency area of the acoustic landscape provided by these earbuds.
The spatial sound experience is provided with the help of a built-in gyro and a 3D audio processing algorithm that tracks head movements. For me, this is a feature quite interesting to use almost each time I use the 1MORE Aero, but it quickly gets awkward and I find the experience to be rather bland. The problem might be that I use the earbuds while I'm on the move, so I miss on enjoying movies or games with spatial sound enabled. Anyway, even without this, the 1MORE Aero get many things done right.
Phone calls are crystal-clear in both ways, and this is something that really matters when taking calls on a crowded street, something that I've been doing more than just a few times while using the 1MORE Aero. Ergonomics-wise, everything is great. I had no problems while eating, talking on the phone for a long time, or doing pushups. In all these scenarios, the 1MORE Aero didn't move, and my ears never hurt.
Battery life is below what some people would expect, but 1MORE's testing is done at 50 percent volume. In my case, I took the 1MORE Aero for a very long evening walk of over 15 miles that involved some stops, a lot of music listening, and about two hours of phone calls. The volume was at roughly 70 percent, and I had enabled ANC. The earbuds ran out of juice just a few minutes before I got home, after about 4.5 hours of use. For me, this is more than enough given the volume level and the use of ANC.
Software: 1MORE MUSIC gets the job done as usual
At the time of publishing, the latest 1MORE Aero firmware release was 1.0.7, while the Android version of the 1MORE MUSIC app was 4.7.4. Custom EQ settings are already present, Sound ID customization is most likely not in the cards. The ability to customize controls on each earbud is only overshadowed by the lack of more options, but this might be addressed in the future via a firmware update.
As it happens with other 1MORE products, the aforementioned software companion allows users to burn in the headphones. The other features include the ability to play soothing sounds, adjust smart playback settings, and more. Dual connectivity is also present.
Leaving Sound ID audio personalization aside, which will probably remain just a dream, the 1MORE MUSIC app might get (at least I hope it will) support for more audio transparency modes. Thankfully, the ANC modes are all present, including the excellent WNR (wind noise reduction) that I have been enjoying tremendously since I had my first encounter with it in the 1MORE EVO.
Conclusion: The good, the bad, and the truth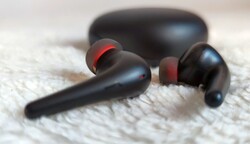 The 1MORE Aero earbuds are great to use and the ability to customize the controls on each one is a big plus for me. They feel comfortable to use for long periods and the software companion is excellent as usual. Battery life and sound quality are good, and the phone call experience is spot-on.
For now, I am still waiting for the "soothing sounds" section of the 1MORE MUSIC app to become as good as this brand's products deserve. I think the case is too large and handling it is often tricky. In some situations where I wouldn't even think about this when using the 1MORE ComfoBuds Mini, for example, I am afraid that the case might break in my pocket.
While there are better TWS options for music fans in this price range, the 1MORE Aero come with spatial audio for less than half the price of Apple's offering. However, the excellent call quality and the ability to customize controls on each earbud also recommend this product. In the end, it will all fall down to the priorities of the potential buyer.
Disclaimer: The author of this review received the 1MORE Aero from 1MORE free of charge for the purpose of testing.
Price and availability
The 1MORE Aero TWS can be acquired from 1MORE US for US$109.99. As of November 5, a 10W Qi Wireless Charging Pad worth US$29.99 comes as a freebie. This gift will be available with the 1MORE Aero until November 18. On Amazon, the product is available for the same price. Depending on the region and retailer, various discounts might be available. The product is not listed on 1MORE's global website yet.
Source(s)
1MORE (official product page, US English)
In my early school days, I hated writing and having to make up stories. A decade later, I started to enjoy it. Since then, I published a few offline articles and then I moved to the online space, where I contributed to major websites that are still present online as of 2021 such as Softpedia, Brothersoft, Download3000, but I also wrote for multiple blogs that have disappeared over the years. I've been riding with the Notebookcheck crew since 2013 and I am not planning to leave it anytime soon. In love with good mechanical keyboards, vinyl and tape sound, but also smartphones, streaming services, and digital art.