15W Ryzen 5 4650U demolishes 25W i7-10710U in leaked FireStrike graphics bench: Vega 6 iGPU is 80 percent faster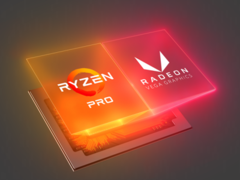 Leaked 3DMark FireStrike scores indicate that the Ryzen 5 4650U delivers 80 percent better GPU performance than the Comet Lake 10710U, also beating out Intel's Ice Lake i7-10657.
AMD's 15W Ryzen 5 4650U delivered an impressive showing on Fire Strike recently. Tipster @_rogame spotted FireStrike graphics scores for the upcoming Renoir chip. The Ryzen 5 4650U scored 2600 on the Fire Strike graphics test. This is over 80 percent higher than the Comet Lake i7-10710U, which scored just 1444. The Ryzen 5 4650U did score 23 percent lower in the physics test, implying a lower level of multi-core CPU power. However, the overall picture here indicates that the 4650U will deliver excellent CPU performance and a marked leap in graphics performance over Intel's Comet Lake U parts.
While 15W Ice Lake U chips like the i7-1065G7 deliver better graphics performance than the Comet Lake U lineup, the performance differential isn't enough to make up for AMD's Renoir gains. On FireStrike, the 15W i7-1065G7 featuring Intel's Iris Plus G7 iGPU still trails the Ryzen 5 4650U by roughly 10 percent.
If this leak is accurate, it implies that Renoir-powered ultrabooks and small form-factor PCs will deliver tremendous amounts of GPU performance on a frugal 15W budget, without compromising on CPU power as Ice Lake U does. Renoir parts are expected to arrive in the next couple months. We'll keep you posted with further updates.