Rumour | Evidence of an Intel Core i7-10710U and Xe DG1 GPU-powered laptop appears on Geekbench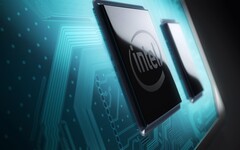 While CES 2020 showed us the in-game potential of a Tiger Lake and Xe DG1-powered laptop, another X1 DG1 product seemingly went under the radar. Now, that possible product has been spotted on Geekbench, hinting at a twin-track approach by Intel to take on AMD and NVIDIA in the laptop GPU market.
One of the main talking points from CES 2020, in terms of Intel products anyway, was the Xe DG1, the company's upcoming dedicated GPU. While many outlets focused on the company demonstrating the Xe DG1 in combination with its Tiger Lake architecture, there were hints that something else could be in the offing too.
Spotted by Tekknological at the conference in Las Vegas, Intel also showcased a Comet Lake laptop paired with an X1 DG1 GPU. Now, _rogame has spotted a Geekbench listing that may point towards the same combination of hardware. Oddly, this post went live in December, but it appears to have been missed until now.
Geekbench, as the screenshot demonstrates below, reports that it has been run on a machine equipped with an "Intel Corporation CometLake U DG1 DDR4 RVP", something that we have never seen before. Moreover, Google can only find a reference to this in the same tweet by _rogame. Incidentally, the listing also reports that the GPU has 6 GB of device memory.
Now, _rogame has not stated that Intel is planning to bring Comet Lake-U and X1 DG1-powered laptops to market. This listing could well refer to the same Comet Lake and DG1 laptop that Tekknological posted a video of from CES 2020. So, either Intel is keeping something under its hat for the time being, or this is a concept laptop that will never make it to market.