Xiaomi revisits Mi Mix 3 slider technology in new patent and comes up with a smart dual side-slider smartphone with slide-out camera and slide-out secondary display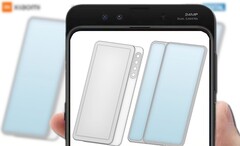 Sometimes choosing between two options can be just too difficult and being indulgent by selecting both is the solution. Xiaomi has shown this in a patent reported on by LetsGoDigital that reveals the company has been pouring over ideas in regard to slider smartphones. Three separate notions for a device with a slider are offered, with the third option clearly being the best of the bunch. Xiaomi is familiar with the technology, having produced the Mi Mix 3 with sliding front camera system in late 2018.
The first slider smartphone is a device that has the camera systems implemented into the sliding mechanism. However, instead of coming out at the top like with the Xiaomi Mi Mix 3, this variant has the slider coming out at the side, running the whole length of the phone. Cameras on the slider part face both the back and the rear, leaving the device with an unblemished display and a camera-free back.
The second slider smartphone removes the camera systems and replaces them with a secondary display. In fact, there is no sight of a camera setup, so this particular device may have under-display camera technology (Mi Mix 4 perhaps?). The secondary display on the slider also runs for the whole length of the smartphone and could be useful as a keyboard or game controller, among other things.
Xiaomi has clearly seen these two ideas as only offering half the solution, so it has combined them together in the third dual-side slider smartphone. This offers the best of both worlds, with the camera slider popping out of the right-hand side and the display slider coming out of the left-hand side. Of course, patents don't always come to production, but it seems like a safe bet that Xiaomi will return to slider smartphones at some point in the future.
My interest in technology began after I was presented with an Atari 800XL home computer in the mid-1980s. I especially enjoy writing about technological advances, compelling rumors, and intriguing tech-related leaks. I have a degree in International Relations and Strategic Studies and count my family, reading, writing, and travel as the main passions of my life. I have been with Notebookcheck since 2012.