Xiaomi patent shows smartphone with ungainly stick-out notch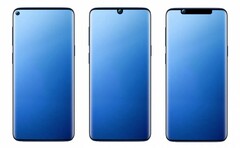 A patent has been unearthed that shows one of Xiaomi's ideas for solving the problem of the notch. In the drawings contained in the application, Xiaomi has gone with a stick-out notch that stretches beyond the normal display area of the smartphone. The stick-out notch is filled with two cameras facing the front while the rear of the notch is left bare.
Few design features have caused such a furor as the smartphone notch, with there being little love for the much-maligned selfie camera solution. OEMs have come up with numerous methods to either minimize the impact of the notch or completely remove it. Xiaomi has used solutions such as a slider and a waterdrop notch, and the company is apparently working on smartphones with pop-up cameras.
However, this patent application, which was made in May 2018, shows that Xiaomi had other ideas in mind for replacing the notch. In this case, rather than spoiling the screen or integrating further moving parts, the Chinese manufacturer went for a stick-out notch that protrudes from the smartphone's frame. The overhang contains two sensors for a front-facing dual camera setup with an earpiece between them.
The rear of the phone's stick-out notch has nothing on it; instead the proposed rear-facing dual camera setup is found in a typical location for a smartphone. Fortunately, many patents end up never seeing the light of day, which is probably the best thing for this particular Xiaomi idea, although at least it would feature a full-screen display.