Xiaomi Mi 6X specs get leaked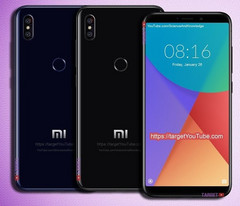 Fans of the Mi X5 will probably be disappointed to learn that the 6X is set to feature only a slightly more powerful Snapdragon 626 SoC. The imaging setup, however, has been substantially upgraded to include a 20 MP selfie cam along with a dual 20 MP + 8 MP rear cam. The display was also replaced with a larger 5.99-inch 2160x1080 IPS panel, but the memory and storage configuration remained the same 4 GB + 64 GB.
Last week, Xiaomi announced its high-end Mi MIX 2S as a very solid Samsung Galaxy S9+ competitor, but the Chinese smartphone maker is also planning to release the successor to the popular Mi 5X mid-range model. Specs like the display size and the camera setup for the Mi 6X have already been leaked when it appeared on TENAA a few days ago, however, details on the SoC and memory option were unveiled on March 31 via bestunderr.com.

According to this latest leak, The Mi 6X will come with a 5.99-inch LCD display with a 2:1 form factor (2160 X 1080 resolution). The SoC has been upgraded from Snapdragon 625 to 626, so there are almost no performance gains in this area. The memory and storage configuration remained the same (4 GB + 64 GB), however Xiaomi made major modifications to the camera setup. The 5 MP camera on the 5X was replaced with a 20 MP one, while the dual setup on the back was upgraded to 20 MP + 8 MP. This model is slated to run Android 8.1 out of the box, and it will also come with a 2,910 mAh battery.

The leaked specs on the Xiaomi Mi 6X might seem underwhelming for a true mid-range model considering that more affordable models from Xiaomi already come with the Snapdragon 636 SoC. Nevertheless, the launch price is rumored to be lower than that of the Mi 5X, which sold for ~US$230 when it debuted in India last year.