What's old is new again: new iOS 14 features that were first seen on Android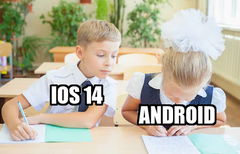 Views, thoughts, and opinions expressed in the text belong solely to the author.
The recent announcement of iOS 14 showcased several new improvements, tweaks, and settings coming to Apple's mobile operating system. While iOS 14 will be the first time the iPhone has seen these features, Android users may get a sense of nostalgia for many of them. Here are all of the new aspects of iOS 14 that already exist on other smartphones.
App Library/App Drawer and Suggested Apps
First seen: Android 0.5 (app folder); Android 0.9 Beta (modern app drawer); Android 7.1 Nougat with the Google Pixel Launcher (suggested apps)

The App Library in iOS 14 is the iPhone's way of organizing an iPhone's apps into a neat cluster of folders. While not a true app drawer, per se, the App Library is the first automated organizer iOS has seen.
It's well known that Android's first full release (1.0) brought the concept of the app drawer to mainstream mobile phones. However, even Android's early builds, like Android 0.5, focused on app management. While most users are familiar with the concept of the modern app drawer, Android 0.5 used an App Folder on the home screen to store applications. Regardless, tucking away all of a phone's executable programs in a nicely organized and hidden system cleared up clutter, something the iPhone's home screen has become infamous for.
The App Library in iOS 14 also has a folder for automatically suggested apps, something that's been in the Android world since 2013. The release of the Google Pixel introduced the popular Pixel Launcher, and with that came the Suggested Apps bar at the top of the app launcher. A suggested apps feature is now included with multiple Android launchers, making it a ubiquitous part of the Android experience.
To be fair, Apple introduced Suggested Apps in iOS 10 back in 2016, the same year Android 7 launched. Suggested apps in iOS took a back seat, however, and were relegated to iOS's Today View page (the left-most homepage) and a small banner at the bottom of the app switcher.

Default App Selection
First seen: Android 1.0
One of the biggest complaints with each version of iOS has been the inability to set a default app for specific file types. Apple is partially remedying that by allowing users to choose a default browser and email application in iOS 14. (It should be noted that this feature was tucked away on a slide at the end of the company's presentation.)
Android has let users choose default apps since version 1.0, and the feature has remained a staple of the Android experience. Apple is playing catch up 12 years later, but it's a welcome update. Maybe iOS 15 will let users choose more default applications.

Home Screen Widgets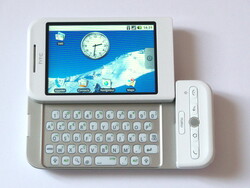 First seen: Android 0.9 Beta (Widgets); Android 1.5 "Cupcake" (third-party Widgets)

Widgets are nothing new for iOS, but since their introduction in iOS 8 (back in 2014) they've been confined to either the Notification Center or the left-most home screen. However, iOS 14 now brings Widgets to the home page.
Android users have enjoyed this feature since the Beta version of Android (0.9), though there were only three embedded widgets. Later, in the spring of 2009, Android 1.5 "Cupcake" brought support for third-party Widgets. Windows Phone 7 introduced Live Tiles in 2010, though these operated more like information queries rather than small applets.
Apple is simply catching up with the times here. However, iOS 14's Home Screen Widgets feel outdated compared to their Android rivals. The Widgets in iOS 14 can't be resized once placed; rather, they must be deleted and replaced with a Widget of the correct size. They also cannot be placed just anywhere on the Home Screen grid; instead, they must snap to predetermined rows, highlighting the continued rigidity of iOS's UI.
Home Screen Widgets in iOS 14 offer something new, though. Widget Stacks allow users to flip through up to 10 Widgets in one stack rather than clutter their home screen. Smart Stacks are predictive Widget Stacks that try to present a relevant Widget throughout the day based on typical phone usage. Both features are nice quality-of-life conveniences, and Android would do well to implement some kind of predictive widget or app suggestion on the home screen in future updates.

Picture-in-Picture Video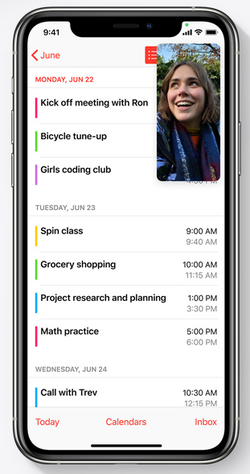 First seen: Android 8.0 Oreo

While picture-in-picture (PiP) has long been available to iPhone Jailbreakers, Apple is officially implementing the feature in iOS 14. Now iPhone users can (officially) watch a video in a floating window without hogging their entire phone. However, Android users have enjoyed PiP since 2017 with Android 8.0 Oreo.
Android's implementation of PiP works with a variety of apps, including popular streaming apps like YouTube and local video players like VLC. It is entirely up to the app developer to allow the feature, but it's caught on with many and continues to grow in popularity.
It's unclear at this time how many third-party app developers will allow PiP when iOS 14 launches to the public, but in its current beta, it seems to work similarly to Android's version. While the YouTube app doesn't support PiP, playing YouTube videos through a web browser seems to be compatible.
While it's three years behind the game in implementation, Apple is improving on PiP. Rather than being forced to keep the video onscreen, iOS 14 allows users to hide the video in a sidebar. Audio from the video still plays in this mode, which is a welcome feature for those who like to listen to podcast-style or audio-centric videos.
App Clips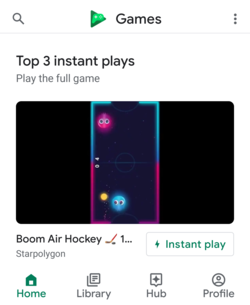 First seen: May 2017 (Android developer rollout); October 2017 (official launch, available for Android 6 Marshmallow and higher)
One of the smaller pieces of iOS 14 is built around small apps. App Clips are "mini" versions of apps that are less than 10 MB and are designed for fast transactions or quick, one-and-done tasks.
Once again, this feature first appeared on Android. Officially launched to developers in 2018, Google Play Instant allowed app builders to create small versions of their applications. When a user selects a Play Instant app or game, the Google Play Store downloads a small bundle of necessary files and dependencies and runs the app in a container on the device.
While we don't know a lot about App Clips yet, it seems that they serve a similar purpose to Google Play Instant apps. There is some contrast; Google Play Instant apps act more like web apps that run in strict containers. App Clips operate more like miniature apps with limited functions. An App Clip will delete itself if it isn't used after a short period of time, but if a user continues to use an App Clip, it may begin to parse and cache more user information.
An example would be an App Clip used to purchase coffee at a local coffee shop. Some users would download the App Clip and never use it again; thus, the App Clip would delete itself shortly after the download (we do not know details concerning the timeline for this deletion at the time of writing). However, repeat customers may use the App Clip regularly over time; in this case, the App Clip may cache the user's last order to speed up their visit. In fact, repeat uses of an App Clip may launch a prompt for the user to download the full app, migrating cached data and permissions once the full app is downloaded.

Smaller Assistant and Incoming Call Interface
First seen: Android 7.1 Nougat (small assistant interface); Android 5.0 Lollipop (small incoming call interface)
One of the most annoying things about Siri (other than its lackluster performance as a digital assistant) is that it takes up the entire screen when launched. Thankfully, Apple is giving iPhone users their screens back with iOS 14...mostly.
When launched, Siri will only show up as a small circle indicator at the bottom of the screen, leaving the vast majority of the phone's display visible. Siri still locks the screen when in use, so it still holds the phone hostage, but leaving the screen visible is a step in the right direction.
Similarly, incoming call notifications will show up as a banner in iOS 14 rather than claiming the entire screen. Users can accept or decline a call from this unobtrusive window.
Android relied on Google Now as a pseudo-digital assistant starting with 4.1 Jelly Bean. However, like Siri, Google Now took up the entire phone screen. It wasn't until the launch of Google Assistant on Android 7.1 Nougat (on the Pixel) that Google trimmed down its smart assistant interface. Incoming calls were migrated to a banner at the top of the home screen with Android 5.0 Lollipop to better match the redesigned UI of the operating system.

Close, but not copied
There are a few inclusions in iOS 14 that may seem like a copy of Android features but shouldn't be seen as "stolen."
The new Translate app in iOS 14 looks like a direct rip from Google Translate, but we don't see it as a copy for one reason: Google Translate has been available on iOS and Android as an app download for years. Google Translate is not inherently built into Android, but Apple Translate will come as a default app. Yes, they serve a similar purpose, but as they're not both embedded features, we won't say that Apple stole the idea for Translate from Android.
Apple Maps got quite a few updates, including some biking routes and EV routing for certain areas. While some claim the biking routes are taken from Google Maps, we disagree. Again, Google Maps has been available as an app for both Android and iOS for years, and with it the biking directions. As such, Apple didn't embed an Android-exclusive feature into iOS with the new Maps app.

Conclusion
The iPhone will get a lot of new features when iOS 14 is released to the public (presumably in September), and many of these features make iOS and Android feel more similar than ever. The two mobile OS giants will still look and feel distinct from one another, but they now share more features than ever before. However, there are several new features in iOS 14 that Android would do well to copy.
Tell us your thoughts on the new features in iOS 14 and the similarities to existing Android features below.

Source(s)
Apple
Android Developer Blog
Views, thoughts, and opinions expressed in the text belong solely to the author.
I've been a computer geek my entire life. After graduating college with a degree in Mathematics, I worked in finance and banking a few years before taking a job as a database administrator. I started working with Notebookcheck in October of 2016 and have enjoyed writing news and reviews. I've also written for other outlets including UltrabookReview and GeeksWorldWide, focusing on consumer guidance and video gaming. My areas of interest include the business side of technology, retro gaming, Linux, and innovative gadgets. When I'm not writing on electronics or tinkering with a device, I'm either outside with my family, enjoying a decade-old video game, or playing drums or piano.