CES 2020 | Western Digital showcases ultraportable 8 TB external SSD, 1 TB USB stick and new WD_BLACK external drive series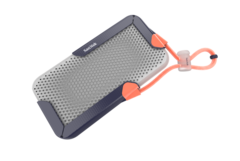 The impressive ultraportable 8 TB external SSD is in prototype phase and will become available in 1-2 years. In contrast, the SanDisk Ultra Dual Drive Luxe USB-C 1 TB stick and the new WD_BLACK external drives for gamers are expected to hit the market this quarter, but pricing info is still unknown.
When internal SSDs barely go over 2 TB these days, and the price gap between 1 TB and 2 TB is at least a couple hundred US$, Western Digital swoops in at CES 2020 with portable SSDs that can store 8 TB of data. WD specified that this is a prototype, so we might not see commercial models for a few years, but it would have been interesting to get an estimated price for such capacities. Hopefully the launch price will be under US$500.

Since the 8 TB external model will not be launched too soon, WD is probably going to use the 128-layer BiCS 5 production wafers it highlighted last year at ISSC. In 1-2 years, the QLC flash memories are estimated to become more readily available, with more affordable prices, so increased capacities like the 8 TB prototype showcased at CES 2020 should come with palatable prices.

WD also showed the SanDisk Ultra Dual Drive Luxe USB-C 1 TB stick that incorporates a Type-C connector plus a Type-A connector to make it compatible with older devices. This thumb drive will be available in late Q1 2020, but no pricing info was provided as of yet.

Last but not least, Western Digital unveiled its WD_BLACK series of external storage models targeting gamers. The new P50 models are among the first external SSDs to integrate the USB 3.2 2x2 20 Gbps interface that can deliver reading and writing speeds of up to 2000 MB/s. Alternatively, the P10 and D10 HDD models come in larger capacities of up to 8 TB and also feature Xbox-branded variants. No word on pricing here, either, but all the new WD-BLACK models are expected to launch this February.