Naturally, one of the best things about advances in computing is that hardware in the mobile realm tends to take up less and less space with every new innovation. In the consumer sphere, this was especially evident with Apple's development of both the iPad and MacBook, two devices known for their compact form factor, good performance, and user-friendly experience. Similarly, Intel's years-old definition of Ultrabooks, the transition to Project Athena, and ultimate evolution into Intel Evo is focused squarely on portability without sacrificing power or battery life.
Like so many things in life, though, there's usually a tradeoff for such svelte notebooks and tablets. When it comes to buying an ultraportable laptop, you could say that there are three selling points to choose from - fast, compact, and cheap - and you only get to choose two. If you do end up springing for a compact notebook PC, you may run into a related issue that has many enthusiasts upset: The ever-increasing number of laptops with storage and RAM soldered to the mainboard, rendering them impervious to upgrades.
If you spend a lot of time reading Notebookcheck, and especially if you find yourself dismayed at all the recent releases with fixed drives and memory, there's a decent chance you identify as an enthusiast or power user. Of course, everyone knows that enthusiasts love to tweak, overclock, and upgrade hardware whenever possible. We're in the exact same boat as all you power users, so we understand how frustrating it is when you're told, "No, you can't upgrade or repair this product you bought fair and square."
Evil corporations and planned obsolescence?
No manufacturer does things without a reason; that much we can agree on. If you ask enough random supporters of upgradeable laptops, though, you'll eventually hear all about how these greedy computer designers don't care about consumers and want to make sure that their fancy new electronics have the shortest lifespan possible. This makes sense because those designers and manufacturers want to sell as many units as possible, right?
While we do love a good conspiracy theory with a clearly defined enemy, it's not quite that simple. One important point to keep in mind is that folks like us, who truly enjoy prizing open $1,000+ machines in order to tweak them and add additional components, are not the norm - in fact, we're a significant minority (which is part of why we're so awesome). It's worth remembering that, outside of the enthusiast community, any given computer user is liable to have the technological prowess of a ham sandwich, and would balk at the thought of even unscrewing a back panel to replace a battery.
That's just the basic groundwork, though, and the reason why manufacturers don't always seem to take the whole "upgradeable laptop" issue quite as seriously as some of us do.
The issue isn't that manufacturers just don't care, though; believe it or not, there are actual reasons behind this sometimes frustrating design decision. First and possibly foremost is manufacturing efficiency, which includes both quality control and cost reduction. Every additional removable piece, especially including a SODIMM slot, introduces more cost and another potential fail point. Plus, an actual RAM socket requires an actual human being be there to plug a RAM chip into every laptop that goes down the assembly line, further adding to cost.
More pertinent, though, is the fact soldered RAM can be placed just about wherever engineers decide. With proper research and development, this can lead to streamlined mainboard design as well as increased thermal efficiency. It also means there's no need to include a bulky connector or an access door, and all told, these benefits combine to let laptop designers shave millimeters off case thickness. As increasingly slim iterations of MacBooks and Ultrabooks have proven, the average consumer often appreciates having the most compact device they can get.
Consumer-friendly laptops with extra slots
Have you heard the tragedy of the Area 51m modular laptop? It's not a story Alienware would tell you. We all know that one of the major upsides to using a desktop PC is its capacity for upgrades. Almost two years ago, though, the Dell-owned gaming PC giant aimed to bring the versatility of upgrades to a form factor almost as small as a traditional notebook. Granted, it was large enough to be considered more of a desktop replacement portable workstation, but it was quite powerful as a result.
Its main selling point was that, unlike every laptop produced up to that point, its CPU and GPU could be swapped out for more powerful versions. It used a Z390 chipset and standard LGA1151 socket, but the graphics card interface was something totally different. Dell actually developed the Dell Graphics form Factor, or DGFF, using full-powered desktop versions of Nvidia's RTX 20 series. While it was an admirable attempt at appeasing upgrade-savvy performance fanatics, if the idea of upgrading a laptop's CPU raises red flags for you, you're not alone.
As you might imagine, it didn't exactly take off - in fact, it pretty much fell flat. The motherboard chipset, of course, patently limited the upgrade path because it's a foregone conclusion that in a few generations, new CPUs wouldn't support its motherboard chipset or socket. To further complicate matters, Dell didn't even offer the chance for generational GPU improvements, and who would find any real value in upgrading from an RTX 2070 to a 2080? The truth is, though, that Alienware was fully aware of its potential for failure, with co-founder Frank Azor conceding, "If customers don't show demand for it, it'll be a novelty and then it'll fade away."
That leads directly to what might be the most important question in terms of soldered laptops. If the only things that an end user can swap out are the RAM and storage, just how worthwhile is it for manufacturers to potentially compromise and offer extra SATA or NVMe connectors and RAM slots?

A positive outlook on the future
It's true that most laptop users probably won't have to worry too much about upgrading their RAM and storage. After all, if you're just performing everyday work or leisure tasks, 8 GB of system memory and a quarter-terabyte SSD will probably suffice for years. Our readers, however, are not most users. Luckily for all of us, there's a vast number of modern, high-powered options on the market that do, in fact, allow for the replacement of these two key components.
It's not all golden on that front, though, so you will want to make absolutely certain you know what you're looking at. Some models do feature an empty RAM slot but utilize a soldered chip on the motherboard. The LG Gram 17, for example, one of the most compact and efficient large notebooks available, has a free SODIMM slot that accepts up to 32 GB of RAM, but the original system memory is, in fact, an embedded chip. While a 40 GB RAM maximum isn't exactly limiting, this does call into question whether or not you can configure it for dual-channel operation.
Outside of that minor quibble, though, there's a lot to be happy about if you're dedicated to souping up your portable PC. More and more models released these days feature removable RAM and M.2 slots, with some even offering enough room for traditional 2.5-inch SATA drives. Even if the stock components aren't removable, many options come with empty slots for adding your own additional solid-state memory. If you're working with a gaming laptop, for that matter, there's actually a very good chance that you'll be able to upgrade it.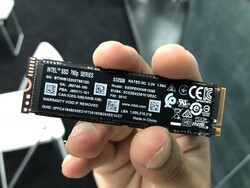 Further demolishing the idea that soldered components significantly reduce costs, these upgradeable laptops come from high-end as well as budget-friendly manufacturers, so you should be able to find something to suit your performance-hungry desires even without making a gigantic investment. Sadly, though, it's somewhat hit or miss, especially if you're looking to save money. Some lower-priced brands still appear to be shaving dollars off manufacturing costs by fixing the RAM and sometimes the storage to the motherboard, even in 2020. The size argument, on the other hand, is losing ground, as the aforementioned LG Gram 17 is among the slimmest in its class, and M.2 drives are so tiny as to add a completely negligible amount of bulk.
So, in the end, while the average consumer may not have spoken and may not even care, we do. When performance starts to slide, or movies and games start to fill up storage, many laptops today offer the option to add power. As long as your performance issues can be solved by more DRAM or a larger SSD, you should be able to eek considerable lifespan out of most laptops purchased today, as long as you opt for a traditional clamshell design. Unfortunately, some major 2-in-1s such as the Dell XPS 13 9310 have soldered memory and storage to this very day, which illustrates the space and heating issues that some manufacturers have with their most compact offerings. Tablets, meanwhile, are right out as far as upgrading.

We can guess how many of you feel about upgradeable laptop components. Don't hesitate to share your favorite modular PCs in the comments below. We're also interested in any other upgradeable hardware suggestions you may have, no matter how outlandish. For that matter, if anyone actually owns or has upgraded an Alienware Area 51m, we'd love to hear how it was to work with. Thanks for taking this trip down customizability lane with us, and remember to always ground yourself before opening your case and touching sensitive electronics!