The next generation Nintendo Switch absolutely needs this one feature that the Playstation 5 has yet to receive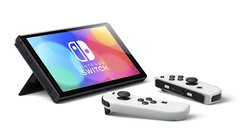 Views, thoughts, and opinions expressed in the text belong solely to the author.
The Switch OLED is Nintendo's disappointing attempt at keeping Switch sales afloat without actually improving anything in terms of performance. It's clear that the upcoming model will act as a midway point in the same vein as the Playstation 4 Pro or XBox One X before launching the real Switch successor. Gamers everywhere have their own wish list about what they'd like to see on the next Switch, but our number one demand isn't even related to performance at all.
Displays with variable refresh rate (VRR) started out with just a few models in 2015. Slowly but surely, the core technology proved to be a hit and it has since expanded to many more monitors, laptops, and even gaming consoles like the XBox Series X. AMD played a big part in normalizing the technology by introducing its own standard called FreeSync without any royalties for manufacturers.
For those unfamiliar with VRR, the feature allows the refresh rate of the display to vary in concert with the performance of the GPU at any given moment. Thus, screen tearing is significantly reduced or eliminated as the refresh rate of the display will almost always match the current frame rate output of the GPU. Games that run on unlocked frame rates or with v-sync disengaged like the Bayonetta series would run smoother, for example.
VRR would be a godsend to consoles because they are notorious for their inability to maintain 30 or 60 FPS at all times. This is especially true on ULV portable consoles like the Switch as exemplified by the bevy of YouTube videos analyzing the performance of various Switch games. By supporting VRR on the next Switch console, aiming for a fixed 30 or 60 FPS wouldn't have to be as vital to developers.
Views, thoughts, and opinions expressed in the text belong solely to the author.
After graduating with a B.S. in environmental hydrodynamics from the University of California, I studied reactor physics to become licensed by the U.S. NRC to operate nuclear reactors. There's a striking level of appreciation you gain for everyday consumer electronics after working with modern nuclear reactivity systems astonishingly powered by computers from the 80s. When I'm not managing day-to-day activities and US review articles on Notebookcheck, you can catch me following the eSports scene and the latest gaming news.