The XtendTouch Pro is the world's first portable 15.6-inch AMOLED touchscreen monitor promising 10-bit color, full DCI-P3 coverage, and 4K resolution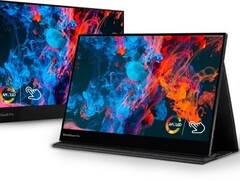 (December 3, 2020 update: Due to the unusual colors and black levels we recorded on our sample test unit, we returned the monitor to the manufacturer for troubleshooting. Interestingly, however, the manufacturer found no issues with our monitor as colors and black levels were at their appropriate levels in their labs in contrast to what we observed in our own testing. Our Surface Laptop 3 setup likely influenced the color profile of the AMOLED monitor by automatically defaulting to Limited Range RGB which directly impacts gamma, black level and black levels. Tuning the color output of the graphics driver may avoid the problems we faced.)
Our original article remains below, but we want to stress that our black level, contrast ratio, and DeltaE measurements are incorrect for the XtendTouch Pro monitor due to compatibility issues with our PC and an incorrect color signal output.)
Though we've checked out a bunch of portable monitors in the past, the XtendTouch Pro XT1610UO from Pepper Jobs is one of the first with an AMOLED panel. AMOLED technology offers significant advantages over standard IPS including much faster response times, higher contrast ratios, and deeper colors that digital artists can appreciate. The manufacturer has sent us a pre-production sample for our initial thoughts and impressions on the monitor. More information and specifications on the XtendTouch Pro can be found here.
Most portable monitors are notable for being fragile like the Lepow or Auzai ME16Z01. To our surprise, however, the XtendTouch Pro manages to be both rigid and light at just 850 g without its faux leather cover (or 1.35 kg with the cover on). The glass front contributes to the inflexibility of the unit for a high quality feel.
Port options are decent as the monitor integrates mini-HDMI and multiple USB-C ports. Nonetheless, some other portable monitors like the C-Force CF011C are able to integrate full-size USB-A and HDMI ports which are arguably more user-friendly. Most users will have to rely on mini-HDMI or USB-C adapters for the XtendTouch Pro.
The OSD is one of the best we've seen on any portable monitor. It's easy to navigate, the texts and controls are large, and there are plenty of customizable options. The button along the left edge to initiate the OSD, however, could have been larger and less spongy.
Display quality is a mixed bag. On paper, AMOLED displays can offer very accurate colors and deep black levels, but the main problem on the XtendTouch Pro is that its AMOLED panel has not been properly calibrated at factory. In other words, users will likely have to calibrate their displays themselves to get the most out of the portable monitor since colors and RGB balance are not great out of the box. This may change when the XtendTouch Pro is ready for mass production, but we can only share our experiences with the unit we have here.

Our X-Rite colorimeter reveals an overly warm color temperature and an average grayscale deltaE value of 4.1 as shown by our screenshots below. Calibrating the panel ourselves fixes these issues by flattening the RGB balance curve, bringing gamma closer to the sRGB ideal of 2.2, increasing the color temperature, and reducing deltaE grayscale to as low as 1.1. Unfortunately, contrast ratio is unusually low at just ~350:1 which is not normal for an AMOLED panel. We tried switching to different preset color profiles including sRGB, AdobeRGB and DCI-P3, but contrast ratio would not improve.
The brightness setting does not appear to be working as intended on our pre-production unit. At 0 percent and 100 percent, brightness is just 216 and 389 nits, respectively. Keep in mind that the manufacturer is advertising a maximum brightness of 650 nits which we are unable to reproduce. We used the included USB-C cable and docking station to power our monitor prior to running these tests.

Response times and gamut seem to be on the money as advertised by the manufacturer. Our own readings reveal black-white and gray-gray response times of under 2 ms each to be faster than any IPS solution. Users can expect full AdobeRGB and DCI-P3 coverage which most other portable displays cannot offer. Refresh rate, however, is limited to 60 Hz whereas IPS panels designed for gaming can go upwards of 144 Hz or more.
A major downside to the XtendTouch Pro is that its docking station is very heavy at 667 g. Though well-made, the dock is not as travel-friendly as most other AC adapters for smartphones or Ultrabooks. The last thing we need is more AC adapters for different devices when on-the-go.

We tried connecting our Huawei Mate 10 Pro smartphone to the monitor, but we couldn't get a picture at all even after connecting a second USB-C cable for additional power. In comparison, our smartphone worked without any issues on the C-Force CF011C.

The XtendTouch Pro XT1610UO looks promising even if our engineering sample still has a few kinks to iron out. Its $700 USD retail price is quite hefty when you consider that most larger professional desktop monitors also cost at least that much. Thankfully, the manufacturer is already aware of the panel issues even prior to our testing which gives hope of a better visual experience when the monitor launches. We know AMOLED is capable of so much more than what we've seen here.
Pepper Jobs XtendTouch Pro XT1610UO


15.60, 3840x2160

Auzai ME16Z01 Portable Monitor


15.60, 1920x1080

C-Force CF011S


RTK2A3B, , 15.60, 1920x1080

AirTab Portable Monitor 15.6-inch


15.60, 1920x1080

Lepow Type-C Portable Monitor X0025I0D4P


15.60, 1920x1080

Display
Display P3 Coverage

99.2

48.53

41.08

40.72

41.31

sRGB Coverage

100

72

60.3

61

62.1

AdobeRGB 1998 Coverage

100

50.2

42.44

42.11

42.71

Response Times
Response Time Grey 50% / Grey 80% *
Response Time Black / White *
PWM Frequency
Screen
Brightness middle

324.9

300.7

205

206.5

193.9

Brightness

326

267

193

198

192

Brightness Distribution

98

77

88

88

88

Black Level *

1.02

0.66

0.25

0.33

0.75

Contrast

319

456

820

626

259

Colorchecker dE 2000 *

5.26

10.26

8.01

4.25

6.66

Colorchecker dE 2000 max. *

7.65

22.93

19.93

18.11

18.75

Colorchecker dE 2000 calibrated *

4.45

5.05

4.3

4.08

3.83

Greyscale dE 2000 *

4.1

9.5

8.3

3.1

7.6

Gamma

1.94 113%

1.51 146%

2.1 105%

2.31 95%

2.04 108%

CCT

6073 107%

8200 79%

6106 106%

6994 93%

8567 76%

Color Space (Percent of AdobeRGB 1998)

89

45.8

38.7

38.7

39.3

Color Space (Percent of sRGB)

100

71.5

59.8

60.8

61.8

Total Average (Program / Settings)
* ... smaller is better
After graduating with a B.S. in environmental hydrodynamics from the University of California, I studied reactor physics to become licensed by the U.S. NRC to operate nuclear reactors. There's a striking level of appreciation you gain for everyday consumer electronics after working with modern nuclear reactivity systems astonishingly powered by computers from the 80s. When I'm not managing day-to-day activities and US review articles on Notebookcheck, you can catch me following the eSports scene and the latest gaming news.