The GeForce RTX 3070 Founders Edition launch was another mess for NVIDIA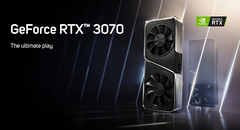 Views, thoughts, and opinions expressed in the text belong solely to the author.
So, the launch of the RTX 3070 happened, and Founders Edition cards proved just as hard to source as their RTX 3080 and RTX 3090 counterparts. To recap, NVIDIA delayed the release of the RTX 3070 by two weeks to improve stock levels for launch day, but those improvements clearly did not apply to the company's Founders Edition.
To the credit of NVIDIA's board partners, there are plenty of custom RTX 3070 cards to go around, albeit generally at much higher prices than the £469 (US$499) Founders Edition card. However, the release of the Founders Edition was a royal mess, at least in the UK. NVIDIA let Best Buy handle RTX 3070 Founders Edition pre-orders in the US, which seemed to work well. Best Buy's website did not succumb to the hordes looking for RTX 3070 stock, and we even managed to get a Founders Edition to the point of checkout. Sadly, the opposite was true in the UK.
Scan Computers handled RTX 3070 Founders Edition pre-orders in the UK, and it went about as poorly as it possibly could have done. By the company's admission 'sheer volume [of traffic] has slowed the website down'. That is an understatement though, as the website crashed repeatedly and Scan Computers had to closedown its product search functionality to cope with traffic. Additionally, there are numerous reports of Scan emptying baskets containing Founders Edition cards, presumably because it could not meet demand.
Anecdotally, we managed to add a Founders Edition card to our basket, before repeated website crashes prevented us from checking out. When we were finally presented with a payment screen after over 20 minutes of waiting, the website crashed again. Finally, by 13:45 UK time, Scan had emptied our basket, and it had run out of Founders Edition stock.
Scan insists that 'lots of customers have been allocated cards', but a check on eBay UK and eBay US reveals that Founders Edition cards have already sold for 165% to 170% of their retail value. Scan claims that 'any resellers will have their cards cancelled' and that it will resell any spare Founders Edition stock 'in the next wave'. Ultimately, NVIDIA has left a sour taste in the mouths of its many potential customers, once again.
Views, thoughts, and opinions expressed in the text belong solely to the author.
Prior to writing and translating for Notebookcheck, I worked for various companies including Apple and Neowin. I have a BA in International History and Politics from the University of Leeds, which I have since converted to a Law Degree. Happy to chat on Twitter or Notebookchat.